Mount Athabasca - Silverhorn, August 2006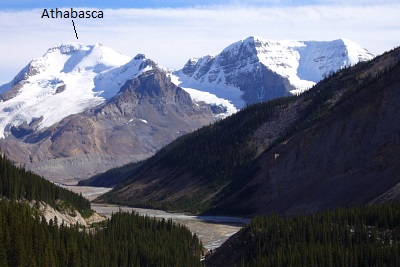 The day following our climb of Mount Sir Donald, Eric and I proceeded to Lake Louise and a decision making point - head south for Assiniboine or north for Athabasca? Reports indicated that Assiniboine's classic North Ridge was plastered in snow from a storm a week or two prior and so we decided to stick to snow/ice routes (rather than snowy rock routes) - off to Athabasca then!
I highly recommend driving the Icefields Parkway even if just touring around in an RV. With tantalizing glimpses of the Wapta Icefields beyond Bow Lake, then north through historic Saskatchewan Crossing and reaching the scenic climax with Mt. Athabasca and an adjacent lobe of the Columbia Icefield flowing from a depression between Mount Andromeda and Snow Dome, there is plenty to feast your eyes on! The forecast called for 60% POP and so we didn't have high hopes for the following morning. We got a bit carried away that night, drank one too many and awoke late and groggy to a perfect blue bird day. Crap! With heads throbbing, we packed up and raced over to the climber's parking area just off the Snowcoach road. Practically running up the moraine we quickly roped up and made good progress up the glacier, encountering two parties retreating due to evidence of serac collapse from a couple days prior. The objective hazard seemed no worse than the Adams Glacier, the C-D on Baker, or the D-C on Rainier...to each his (or her) own I suppose.
We proceeded to the base of The Silverhorn - an AI 2 route considered somewhat more technical than the standard North Glacier route, but not as difficult as the classic North Face. Booting up deep, cold powder, we quickly encountered funky ice bulges that would dinner plate with each swing of the tools. We booted up more wind-swept powder before reaching the sustained 45 - 50 degree face featuring hard water ice beneath a thin layer of sugar snow. Eventually forced to pitch-out a portion of the route while belaying off of ice screws, I found myself wondering why we hadn't at least brought up two more!
Nevertheless, we made it to the top of The Silverhorn in good time and finished-off the climb by slogging over to the summit. Amazing views over the Columbia Icefields with the massive Sascatchewan Glacier curving below our feet were all ours to behold. I looked for Robson, but it's just too far north to be seen.
We descended the North Glacier route (ignoring the recommended safer, but longer and more tedious AA-Col descent rte). Running the gauntlet beneath the North Glacier serac one final time (losing and retrieving a crampon in the process) we continued down the glacier without further drama. The anemic chicken burger at the Athabasca visitor center/lodge was little reward for calories burned that day and we resolved never to eat there again - they don't cater to dirt-bag climbers like the Best Western at Roger's Pass does!
We drove north to Jasper the following morning with high hopes for climbing Edith Cavell's East Ridge the next day (another 50 classic). Along the way we were treated to impressive views of Mount Christie towering high above the Athabasca Valley. Plainly visible from town, Edith Cavell's north side was still plastered in snow. After conferring with the folks at Gravity Sports we decided that conditions on the route were a bit too sporting for our tastes (this time of year, one can normally "run up the thing in tennis shoes"). It's apparently been an unusual August by Rockies' standards. What to do, what to do? Well we were only 100 clicks away, and high pressure was forecast to set in. Do we dare entertain Robson? What the hell, eh?
Click
here
to view photos.