The Castle - South Face, February 2003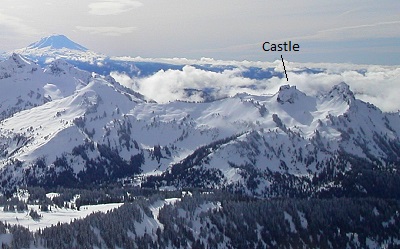 Having never been out in the Tatoosh Range and motivated to explore the exceptional backcountry ski terrain in the area, I convinced Paul to join me for an outing on The Castle. The climbing wouldn't be very technical or long. But on a day like we had, simply going out there for the views and to soak in some sunshine were reward enough. I have also recently converted my old Burton deck into a splitboard, and finally wanted the opportunity to take it out in what I hoped would be better snow conditions than when I tried it last. We parked at the Narada Falls parking area and went through the usual routine of getting dressed, sorting gear and struggling with my splitboard climbing skins. We followed the icy trail down below the falls and followed the signage directing us towards the Reflection Lakes. Rather than follow the trail however, one can take a shortcut and climb the steep snow slope above the parking area in order to gain the closed-for-the-winter Stevens Canyon Road. Unfortunately, we would make this discovery many hours later.
The "trail" eventually joined the Stevens Canyon Road, which we followed for less than a mile. With the Reflection Lakes to our left, we soon spotted The Castle and Pinnacle Peak above us. We turned to our right, and, leaving the road behind us, followed an obvious boot path heading up through the trees. It wasn't long before we were again out of the trees and presented with up-close views of Mount Rainier. The climbing looked shorter and easier than we anticipated. Having a 60m rope would be overkill for this climb. A 30m rope would probably suffice in winter. Feeling sure of himself, Paul scrambled up the snow-free rock, right of a dihedral, to the ridge crest. Having difficulty following Paul's line with my plastics on, I opted to climb directly up the dihedral while on belay from above. I reached the ridge top and waited while Paul fumbled with the tangled rope for what seemed like an eternity before continuing along the short but exposed summit ridge to the true summit. I slung a couple horns and reached the summit soon thereafter. I descended back down to the obvious rappel anchor and belayed Paul up to the summit. By now, countless parties had skinned or snowshoed up to the saddle below The Castle's South Face. It was a busy day in the Tatoosh indeed! (
more...
)
Click
here
to view.