Mount Sill - North Coulior/Northwest Face, July 2010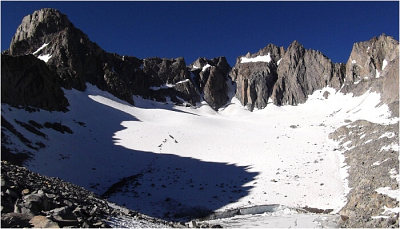 Less than 90 vertical feet shy of North Palisade and somewhat offset from the NW-SE trending spine of fourteeners cradling the dramatic Palisade Glacier, Mount Sill is a high and rewarding summit offering a commanding view over what has been described as the most alpine region of the High Sierra. Motivated to experience The Palisade Glacier - the largest in the range, I zeroed-in on a climb of Sill's North Coulior/Northwest Face. Choosing this route satisfied my requirements for a northern approach and for an aesthetic Palisades scramble on a peak exceeding 14,000 feet. As with the preceding Mount Ritter climb, High Sierra Author, R.J. Secor's subjective judgment that "Mount Sill has the best summit view of any peak in the Sierra" also helped simplify the process of deciding what to climb in The Palisades.
Still sore from the Ritter climb the day before, I pulled into the trailhead at Glacier Lodge a bit before 2pm. Signs indicated that overnight parking was forbidden so I backtracked a hundred yards or so and parked at an unsigned pullout/shoulder just before the resort. In speaking with the owner of the only other vehicle parked next to me, I decided to gamble on the unlikely possibility of getting ticketed and/or towed and left my car here. The actual trailhead with overnight parking apparently lies about a half-mile down the road.
It was a good 85 degrees out when I started hiking that afternoon. And with about 8-miles to go to reach camp at Sam Mack Meadow, it was certainly an exhaustingly long and sweaty hike. I reached the junction for the South Fork and North Fork Big Pine trails in no time and proceeded up the North Fork. The well-signed trail seems to follow an old road for a while before climbing out of the trees for a shade-less trudge up a moderate but relentless sandy grade. I almost welcomed the rest when forced to step off the trail to allow a group of four or five packhorses and their owners to pass; that is until they admonished me for choosing to climb solo.
After the first few miles the trail again closely parallels the North Fork Big Pine Creek under the protective canopy of deciduous trees. It was along this stretch of trail that I encountered a most quirky 60+ year old kook from New Hampshire of all places. Having recently lost his job to India, I think he decided it was high time to retire and embrace life as a dirt bag climber. Not that dirt bagging was necessarily a foreign concept to this fellow either. Now, I know of all kinds of climbing lists we as climbers aspire to, or in some cases obsess over, but this guy was here to take care of some serious unfinished business -Climbing Every Named Summit Over Thirteen Thousand Some Odd Feet In The Contiguous US States. Now THAT'S a list!! Speaking of lists, he was also aware of our local Top 100 Bulger list. In his words, we here in the Northwest are "famous." Is anyone looking for a Rainier partner next summer?
Not burdened by a pack containing over a week's worth of provisions, I forged ahead on my own expecting to be joined by my new friend at camp later that evening. A short distance beyond Second Lake I exited the main trail at left and descended to an open meadow before following the trail up over a headwall to reach camp at serene Sam Mack Meadow. Were it not for the mosquitoes I'd have enjoyed the setting more, but instead promptly barricaded myself in my tent just moments after dinner. New Hampshire never showed, so I assume he either took a pass on the Mount Winchell climb for more pressing objectives in the Evolutions and/or came up short on time and made camp somewhere down by Second Lake. The lakes in the area here actually number from one to five (I think). Only the first three are visible either on the approach to or from the summit of Mount Sill.
When I lost the trail in snow en route to the peak the following morning, I simply booted upwards as the snow patches allowed to reach a broad saddle in the talus with a moraine lake and Palisade Glacier just beyond. The glacier flows rather dramatically into the moraine lake, forming a wall of ice that calves and leaves the lake littered with small icebergs. I could see a tent and a person standing on a large flat rock near the lake's outlet. In the distance I could also barely make out a twosome ascending North Palisade's U-Notch Couloir route.
Proceeding on talus below Mount Gayley along the left (looker's) edge of the glacier, I soon reached the shaded and still very firm eastern glacier margin. I stopped to don crampons and retrieve my ice axe from my pack before continuing. Following a faint boot path, I made a gradually ascending traverse below the rock walls above me to reach an obvious weakness at left. Somewhat steeper snow gave way to a snow-free and loose class-3 gully that quickly leads to Glacier Notch - the flat area between Gayley and Sill.
Traversing the large snow slope on the north side of Sill, I proceeded to the base of the North Coulior (view down from above) and easily followed bucket steps up the coulior to the notch between Apex Peak and Mount Sill proper. Scrambling up from the notch, I soon located a gravelly, down-sloping and moderately exposed ledge that I could follow out right to reach the base of the Northwest Face. From here I carefully climbed up slabby rock littered with bits of sand and gravel to keep things interesting. Trying to skirt bulletproof snow at climber's right, I quickly ran into steep 5th-class terrain and was forced to look over to my left for more survivable options. A sketchy traverse on ice-cold rock with a fair amount of exposure tugging at my feet saw me to somewhat easier terrain. Linking small ledges, I zigzagged up the 4th-class rock to reach the relative security of Sill's West Ridge.
Some fun scrambling up and over the large blocks that make up the upper-West Ridge quickly led to the horizontal slabs of the summit area. Finally, I'd done it! My first fourteener in the Sierra! Apparently I had been moving at a pretty good clip as well, as the entire ascent from camp to summit only took me about two to two-and-a-half hours! I tried to find my calm and take in the supposed "best summit view in the Sierra," but was still shaking after my shenanigans on the Northwest Face. I had this nagging urge to get back down it as soon as possible, and only then would I be able to relax. So after a ridiculously short stint on top I began the dreaded descent.
Returning to the top of the Northwest Face, I retraced my route back down the 4th-class ledges and below to regain the initial ledge I traversed across from the notch between Apex and Sill. It wasn't all that bad really and I should have simply gone up that way instead, but what the heck, at least now I could breathe easy again. The rest of the descent back to camp and trailhead went without incident, save for the two, nay three ankle tweaks I suffered on the hike out. As gentle as they are on the knees, those sandy trails really do conceal the rocky surface beneath and are murderous on my ankles. Back at the trailhead I was pleased to see my car still there in the same location where I had parked it, and I could finally breathe a final sigh of relief. All's well that ends well! Hmm, so North Palisade sure looks like an attractive climb?
Click
here
to view photos.