Silver Star Mountain - Silver Star Glacier, June 2001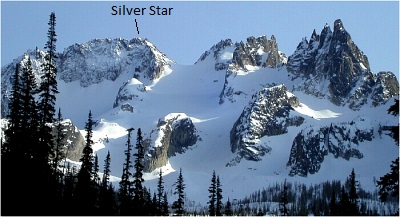 This is my second attempt on Silverstar Mountain. The previous attempt wound up being Martin's first (and last?) foray into the wilds of the Pacific Northwest. The skies were somewhat overcast when Chris, Martin and I reached the trailhead, but we had confidence that things would improve. We humped it over the steep dusty trail to a level bench and set up our tents just as it began to snow. Martin was already pooped by the steep trail and was relieved that this would be our destination for the day. Thanks to the weather (it was late September), we never made it much beyond camp that entire weekend. We eventually packed up and drove home empty handed. I vowed to return someday...
And return I did - The alarm clock rang at 5:00am on a cool breezy Saturday morning in early June. I became conscious around 7:30am and debated on whether or not I should bother making a trip out east into the mountains, as the west-side was being drenched with rain. I didn't have to think for long. I reached the Silver Star parking area shortly before 11:00am and discovered Dave and Mara waking up after spending a stormy night in their van. As the two were going to spend the weekend up on the mountain and intended to summit the following day, I wished them well and started up the trail. I soon reached the level bench where I had camped on my previous vist. I continued upwards and to the right and reached a broad gully that led up to an obvious depression in the rock above. I did not enjoy the loose scree leading up to Burgundy Col.
Upon reaching Burgundy Col I and enjoyed views to the north that contrasted sharply with the views 180 degrees to the south. I slid down a short section of steep snow and traversed below the cliffs until I reached the relatively small Silver Star Glacier. I angled right up towards the center of the glacier and spotted someone descending. I soon became acquainted with Paul Cookson and we briefly exchanged climbing stories and made informal plans to go climbing together sometime. We parted ways and I continued upwards until I reached another col. From here, the summit of Silver Star is an easy scramble to the left with one final short step that can be a problem getting up/down. The clouds had finally advanced beyond the apparent blue sky line drawn along HWY 20 and were now making their way towards me. I snapped a quick summit photo to the west before the light turned to shit.
I returned to Burgundy Col and was soon approaching the bench where I expected to find Dave and Mara. Dave saw me returning from the col and waited for me to pass by as he hid behind a tree. Just as I passed he jumped out and gave me the scare of my life! In an automatic reaction of self defense, I nearly impaled him with my hiking poles. Together we then enjoyed a warm calming tea and a chat before I continued back to the car for the long drive back home.
Click
here
to view photos.