Snoqualmie Mountain (Crooked Coulior/South Face), March 2003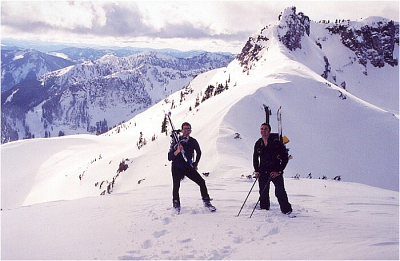 I had to work late on Friday and I didn't want to wake up too early Saturday morning. Paul also welcomed the prospect of a few extra hours of sleep. So back up to Snoqualmie Pass we went. Our objective - a tour up to Snoqualmie Mountain's East Snow Dome, with a ski/board descent down the Crooked Couloir.
We parked at the lower Alpental parking lot, crossed the street, and began skinning clumsily up towards Cave Ridge. The snow conditions down low were such that it was easier to boot it up rather than use our skis. Paul kicked steps through the surface crust while I cautiously followed his tracks with my boarding boots on. After lots of sweating and slipping (for me), we finally reached the ridge crest. Stopping briefly for a snack in the basin below Snoqualmie's South Face, we looked forward to finally have our skis back on our feet for the remaining ascent to the East Snow Dome (referred to hereafter as ESD). Snow conditions on the ridge once again forced us to take our skis off. Paul and I would carry our skis for the remainder of our climb to the ESD summit. So much for an easy tour. This was grunt work!
Some more step kicking along the corniced summit ridge brought us to the Crooked Couloir's entrance. While I stayed behind to assess snow stability in the couloir, Paul traversed the southern slopes of Snoqualmie Mountain for a quick jaunt to the true summit. After Paul returned to where I was, I informed him of my intentions to drop into the bowl. I wanted to ride down part-way, in order to get some sense of the snow coverage in the lower half of the couloir. Neither of us were particularly interested in committing ourselves to a rappel over bare cliffs should snow coverage be inadequate.
I dropped in and to my dismay learned that what appeared to be soft powder was in fact a solid and unbreakable ice crust. I rode down to the lip, visible at bottom of the bowl, and stopped for a look down the couloir. I found many trees still protruding from the little bit of patchy snow deposited in the lower couloir. It wasn't worth the effort and expressed this sentiment by yelling "...it f'ing sucks" back up to Paul. I unstrapped my bindings and booted it back up to the ridge where Paul was awaiting details of my verdict.
We roughly followed our line of ascent (staying south of the ridge) on our ski/board back down to Cave Ridge. The few sun-exposed slopes that hadn't yet already sloughed off offered up some enjoyable turns in spring-like corn. The shady slopes, however, yielded the usual breakable-crust-over-mush that has sadly become the backcountry norm this season. In Paul's words..."This is the worst f'ing snow I've ever skied!!". Actually, it really wasn't all THAT bad...well, on a board anyway. We kept our snow-sliding implements on our feet for the clumsy tree-choked descent from Cave Ridge. I'll be back one day for the Crooked!
Click
here
to view photos.