Mount Stuart - Ice Cliff Glacier, June 2004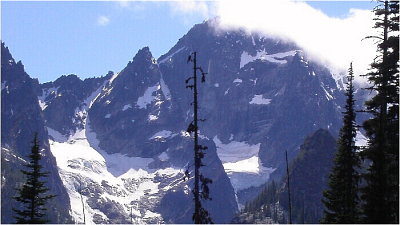 After awaking to the disappointing pitter-patter of rainfall on a soggy May morning below Mount Stuart's north-side, Eric and I packed up and headed home empty handed. We vowed only to return when the weather was forecasted to be better than NOAA's "40 percent chance of showers." The unseasonably late-spring snow that continued to fall at higher elevations would hopefully help prolong good climbing conditions on the route - a mantra I kept repeating to myself as I impatiently watched and waited for the opportune moment to be lured back...and lured back we were. Tales of technical climbing through ice-steps down low, sketchy 'schrund crossings, and a funky "belly flop" move over the final cornice guarding the couloir's exit, it turns out, weren't as serious as I'd envisioned. Though the climbing ended up being fairly moderate for us, the Ice Cliff Glacier is nevertheless still a committing route, with, as we quickly came to appreciate, a host of objective dangers to contend with.
With a trailhead bivy, Eric and I started hiking the Stuart Lake Trail by 5:15am. We proceeded left off-trail at a switchback about a mile past the junction with the Colchuck Lake Trail. Following a faint climber's path, we located a far better log crossing across over Mountaineer Creek than that which we used in our previous attempt. Watchful for the occasional shred of flagging and cairns, we hiked over a bare hump or two before descending into the forested valley. When boulder fields were encountered at the forest's edge, we resisted the temptation to follow cairns leading across. Instead, we continued descending towards the creek where once again the climber's path was located. The path parallels the creek for some distance. It pleasantly winds its way along open forest with only minor brush to deal with. As the path faded, we veered upwards to the right and again located it in a narrowing strip of forest sandwiched between the creek on the left and the left-edge of a boulder field on the right. The basin was reached shortly thereafter about 2 1/2 hours travel-time from the car. (
more...
)
Click
here
to view photos.