Mount Stuart - North Ridge, July 2005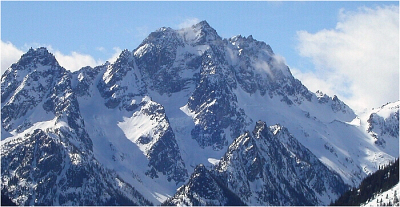 So there I was, once again kicking dirt on the Stuart Lakes Trail. How many times have I hiked this damn trail over the years? Nine? Ten? Too many. After five I think I naively pronounced myself done with it. I know better now. With the abundance and quality of snow, ice and rock routes in the Stuart Range, not to mention better weather than areas west of the crest, I may very well find myself hiking this trail for many more years to come. In any case, I certainly wasn't done until I had climbed Mount Stuart's classic North Ridge.
Probably one of the best "moderate" alpine rock routes in the state, on the most significant peak in The Enchantments/Stuart Range, the North Ridge is an obvious "must-do" climb. With that in mind, Martin Cash and I decided to climb the ridge over the July 4th weekend. As the holiday weekend approached, details of our climb began to emerge. Despite my silent concerns that we might be biting off more than we could chew, I agreed to climb the complete North Ridge with the option of forgoing The Great Gendarme pitches if we were short on time. We would hike in via Stuart Lake Trail/Mountaineer Creek on the north-side, and return to camp by descending the Sherpa Glacier Couloir (reported to be in good condition). By doing so, we'd avoid the unpleasant south-side Cascadian Couloir descent not to mention the final demoralizing hike back up to the usual camp at Ingalls Lake. Or would we? (
more...
)
Click
here
to view photos.