Argonaut Peak - Northeast Gully, May 2004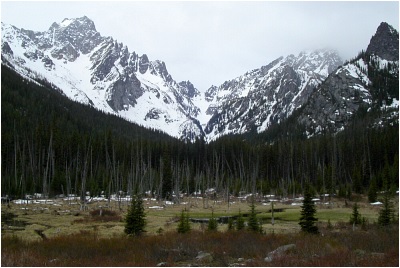 Paul and I spied this aesthetic line last April while finishing a climb of Dragontail's Triple Couloirs. We unanimously agreed that it would be our route of choice up Argonaut. Not having heard or found much to read about the route (Beckey guide seemingly offers vague and misleading information), we thought we were onto something unique and rarely climbed and so kept out little secret quiet for almost a year. So, it finally came to pass that Tod Bloxham, Martin Cash, Paul Klenke, and I climbed the narrow Northeast Gully on a Sunday in early may. We started up the trail at 6am after spending the night at the trailhead without being hassled by Larry the Tool. When we got to the swampy area about a mile past the Colchuck Lake junction we got our first view of our destination. Lo and behold, we noticed a twosome in our couloir. Someone was poaching our secret route! Dammit!
We left the trail a little over a mile past the Colchuck Lake junction, aiming for the north basin below Argonaut Peak. In another couple of hours we found ourselves in the north basin at the base of the Northeast Gully. We were following a boot path. The gully didn't look too intimidating and it wasn't. It maintains a fairly constant angle of about 40 - 45 degrees for its 1,200-ft gain (approx. 7,000 ft up to 8,200 ft). The gully narrows down to a squeeze no more than 10ft wide. Once past the constriction, we continued up past a noisy fountain spewing from an ice floe to reach the top of the gully. The rock transition from gully to upper NE-facing snowfield required technical climbing. Martin and I followed a 5.6 crevice to the left (interesting climbing in plastic boots!) while Tod and Paul took an easier route to the right. This got us to the upper snowfield whereupon we met the twosome we had seen earlier. This twosome (a Erick and John) had been rebuffed on their first try up on the crest above. (
more...
)
Click
here
to view photos.