Bugaboo Spire - Kain Route (South Ridge), August 2004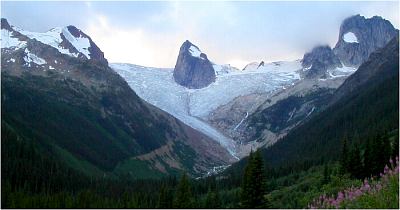 Dave and Michael's reports following their adventures in the Columbia Mountains during the summer of 2003 inspired me to make this road trip. Home to UNESCO World Heritage Site and Canada's first National Park - Banff National Park, I have long wanted to experience southeastern British Columbia for myself. Ironically, the suggestion to make the long journey, and tick off a few noteworthy peaks, sprang from Eric and me lamenting the poor weather forecast for the North Cascades (and elsewhere). "They (The Rockies) are well east of the crest", I recall mentioning to Eric, implying that the mountains lie in a rain shadow of sorts. With this skewed logic, we were quick to put our 4-day Luna/Fury climb on hold and went about making last-minute plans for a 5-day whirlwind tour of the Canadian Rockies. Our ambitious "power weekend" itinerary allowed for only one or two days worth of climbing in the Bugaboos. Time permitting; we'd enjoy a day of sightseeing in Yoho and Banff National Parks in The Rockies proper, and finally one last day of climbing in Glacier National Park. We'd be burning two entire days just driving there and returning to Seattle. A crash-course in classic Rocky Mountain weather, elation in success, frustration in failure, and a sense that our proverbial mountaineering "backyard" had expanded by some immeasurable amount followed.
Figuring on about 8 hours of driving time from Seattle to reach the Bugaboo Provincial Park turnoff, and about 2 hours of hiking to reach the luxurious Kain Hut, we weren't in too terrible a hurry to leave town. Punctuated by thunderstorms and heavy rain, the otherwise monotonous drive east to Spokane did little to bolster our optimism for nicer weather up north. The drive north through Coeur d'Alene and Sandpoint, however, brought back fond memories of my many ski trips to Schweitzer Mountain as an undergrad at WSU. Near the border, the Kootenay River Valley, through which we were traveling, took on a different, broader, almost Rockies-like appearance, minus the rocky peaks. It would later dawn on me that these gentle, forested mountains make up the Selkirk Range foothills of the Columbia Mountains, culminating with the rugged and heavily glaciated peaks within Glacier National Park and beyond. For now, however, the Selkirks would have to wait, for we were headed for Cranbrook, the town at the headwaters of the Columbia River and gateway to the Purcell Range and Rocky Mountains. (
more...
)
Click
here
to view photos.