Mount Catherine, April 2003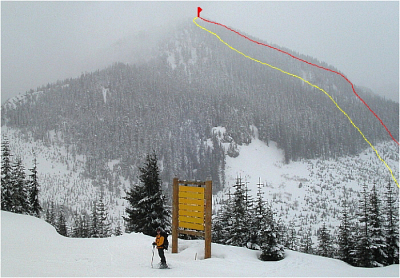 So, once again, Paul and I hatched plans for a ski/board tour up some peak in the Snoqualmie Pass area. We finally settled on climbing Lundin Peak after I failed to convince him to do Red Mountain instead (Paul rarely repeats climbs). Time permitting, however, Paul did agree to climb and ski Red Mountain after descending from the summit of Lundin Peak.
Anyway, Scott finally decided to grace us with his presence on this particular outing. After meeting and shuttling gear into my car at the Issaquah Park-n-Ride, the three of us were on our way up to The Pass. The poor visibility and pounding snowfall up at The Pass did little to motivate us to get out of the car. After some confusion in locating a public toilet and hesitation with where to park, we finally got all our gear together and began walking towards Alpental. No more than maybe ten yards from the car, I turned around and looking at Paul and Scott asked if they still felt like climbing Lundin Peak. A somewhat unenthusiastic "yeah" was the answer. Given the conditions, I knew we wouldn't reach the summit and though avalanche conditions were reportedly moderate, I didn't feel too comfortable hiking though the Commonwealth Basin en route to Lundin Peak with all the new snow that had accumulated. As an alternative, I suggested skiing/boarding Mount Catherine. Both Paul and Scott seemed interested. Armed with an objective we were all comfortable with, we piled back into my car and drove over to the Mount Hyak Ski Area. (
more...
)
Click
here
to view photos.