Colchuck Peak - North Buttress Couloir, April 2003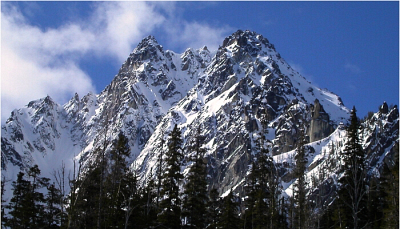 I first climbed Colchuck Peak in May of 1998 with Chris Rose and John Weller. It was my first real snow camping experience and glacier climb. The following May we again returned to climb Colchuck Glacier, as two parties of two - Dave Shannon and Chris Rose, John Weller and myself. I returned several years later with Tom Sjolseth and Paul Klenke to do a combo climb of Colchuck Peak and Dragontail Peak on Friday-Saturday. Our intention was to hike in to camp at Colchuck Lake on Friday, set up camp and climb Colchuck Peak's North Buttress Couloir route that afternoon, and then climb the Triple Couloirs route on Dragontail the next day. We'd also planned on hiking out that same day.
(By Paul Klenke): We started at the Bridge Creek Campground (2,070 ft) at 6:15AM. It is approximately 3.5 miles of road travel to the usual summer trailhead. The road became permanently snow-covered at around 2.8 miles right about at the Eightmile Creek Trailhead. In an hour-and-a-half we were at the trailhead. I kept my Salomon trail running shoes on even when it turned to all snow as the bootpath was sufficient for easy travel. Since the snow was hard in the morning, I wound up keeping them on all the way to our lakeside camp. In four-and-a-half hours we hiked the 3.5 miles of road and 3+ miles of bootpath trail and arrived at the south end of the lake whereupon we made camp (and set up Sergio's deluxe triple-man car-camping tent -- the "Escort") in a pre-existing camp spot at the first stand of trees. After a short break of less than an hour, we headed out to climb the NBC of Colchuck. It was noon...
In about an hour we ascended the steep snowslope below the Colchuck Glacier moraine. We then followed the moraine southwestward and eventually left it to angle for the base of the couloir at around 6,600 ft. Some low level avalanching down the couloir had rendered the snow at its foot either blocky, deep, or scoured. For the most part, we kept to the scoured sections to expedite the ascent. Once we got into the couloir proper, the scouring disappeared except for a few runnels here and there. The angle of the couloir is probably about 40 degrees on average (but steeper in sections). We alternated kicking steps (usually no deeper than a foot) all the way to the 7,900-ft col. It was now 2:00PM.
I was a little taken aback by the sharpness of the col. I thought there would be a large platform at the top, but this was not the case. The width of the col was about six feet and it was just as precipitous--if not more so--on the west side. Another problem was the headwall on the south side of the col that begins the supposed North Buttress Route. For sure, none of us felt capable of climbing this steep, featureless rock with the snow conditions on it (not deep enough to support cramponing, but too deep to climb with hands and feet). I saw a small snow platform about 50 feet southwest of the col and went over to it to take a look around the corner. Once around the corner, I saw a steep snowslope leading southwestward off to the exposed snow-covered Northwest Face. I knew that way would go (with a belay), and so informed my compadres of this upward option. For a long duration we debated what to do. Should we punt and return down the couloir broken men (not likely and certainly no fun) or venture out onto the Northwest Face? Tom took a gander out on the steep traverse for a couple dozen feet but found it too sketchy to do unroped. I told him to come back before he got himself stuck out there. We decided to bust out one of the two 50m ropes we were toting and go for it.
Sergio slung a couple of horns at the platform for an anchor while Tom sunk a picket for some added protection. With this "satisfactory" belay, I took the point and ventured out on the 50-degree traverse with deep, sugary snow. It took me four or five tamping steps just to get the snow to pack down enough to continue. It was like I was climbing it four times instead of once. Maybe an afternoon ascent on the Northwest Face wasn't the right thing to do. At any rate, it took me at least half-an-hour to make that traverse (sinking Tom's spare ice-axe as the only protection at about halfway). There was a brief rock outcrop surrounded by shallow snow over slabby rock that took me some time to maneuver past. This was a balance move more than anything. I was aiming for a prominent corner and snow moat under an overhanging rock before the rope paid itself fully out. I made it to within ten feet before this happened. Sergio broke down the anchor and for that ten feet of time we were doing a running belay. Under the overhang I found a great crack within which I sunk the two largest cams on the rack and made a bomber anchor to bring up Tom. When Tom got to me, he belayed Sergio. It wasn't a large moat--more like a depression than a moat--making it a cramped place for three people.
From this corner it was again my duty--my folly?--to continue on point. Now with both 50m ropes in use, I took the lead and disappeared around the corner while Tom belayed me. Once I rounded the corner I could see it was "all good." It looked like nothing more than a steep snow climb in and around rock outcrops closely west of the North Buttress. And for what seemed like an eternity, this is what I did. I was able to place pro every 100 feet or so (I was most proud of my sideways use of a mid-size nut in a vertical crack). Eventually, Tom and Sergio joined me on the face. None of us remembered to bring sunscreen. This affected Sergio the worst as he was constantly looking up at me (into the sun) wondering what the hell was taking me so long. The snow was again unconsolidated sugar of a foot or more in depth. This made any traverses I had to do time consuming as I again had to tamp down the steps. Yep, it was like I was climbing the face three times instead of once. I was really getting tuckered out. However, in the interest of saving time plus the fact that I couldn't seem to find a good, flat place to stop to reel Tom and Sergio in, I resolved to continue on all the way to the summit.
The face went on and on as I veered for rocks in order to place pieces or went around them if they offered no such protection. With a little back-rope driving, I steered toward a prominent notch about a hundred feet below the summit blocks. At first, we thought the rock on the right of the notch might be part of the summit, but when I approached it I could see rock through the gap higher up. This was a little deflating, but there was nothing to be done but bear to it. Brrrr, it was cold in that shady notch at 7:00PM. After the notch, I then realized that the higher rock I had seen earlier through the notch was STILL not the summit (the actual summit was beyond and to the right about 100 horizontal feet away). When I arrived at this rock, I went left to see if I could go around that side of it (no way; the Northeast Couloir begins there?). I then went right to beyond the summit rock to see if there was an easy way around its west side (nope; steep canyon). It appeared my only option was to climb up the north side of the summit block. Fortunately, this was pretty easy. I went through a squeeze gap no wider than my body using my elbows for leverage.
Once on top (or near to it), I hip-belayed Tom through the gap. Funny, by the time Sergio got to the tight gap all the snow underfoot had been knocked away leaving him a much tougher (airy?) scramble. It was 7:40PM. For some unknown reason, it had taken me somewhere around 5 hours to lead that brutal face. I was beat. With the waning daylight, we coiled the ropes, snapped the obligatory photos, and made for Colchuck Col. The backside of the peak was steeper than I thought it would be, but otherwise offered no problems. In less than fifteen minutes we were at the col. Tom plunged ahead down the snow-covered glacier while I waited for Sergio.
Perhaps the funnest part of the climb was the descent back to camp. In the deep gloaming with visibility very low, we followed Tom's footsteps and glissade chutes. Sergio was a little ahead of me and I'd watch him plunge-step, stop, sit down, and slide off into the darkness. It was both surreal and serene at the same time. This happened four or five times with each ensuing glissade becoming better than the last. If you haven't ever glissaded in the dark, I highly recommend it. Back at camp I informed my cohorts of my non-desire to climb the 3Cs the next morning. I just was not into getting up at 5:00AM after getting to bed at midnight. There was some umming and ahhing on Sergio and Tom's parts but eventually they both conformed to the same desire, or lack thereof. Nope, we would sleep in and hike out the next morning. The weather the next morning wasn't perfect but not that bad either. Spindrift cascaded off the immense faces of Dragontail. We could see a group of four (later discovered to be JayB, GregW, Bronco, and Genepires of the cc.com community) slogging up the NBC. At around 10:00AM we packed up and left for home. Again, I was able to wear my trail running shoes all the way out though the hard snow was a little tougher to negotiate at the staircase sections. Thank god for my ski poles.
One last surprise awaited us: just beyond the Eightmile Creek Trailhead where the snow over the road begins to disappear we rounded a corner and saw four or five cars parked on the side of the road. Blast, they've opened the road...the day AFTER we started the climb! We wound up hiking an extra two-and-a-half miles up the road Friday morning. Someone in our group suggested we drop our packs and hide them off the road and walk pack-free the last mile or so back to the car. And this is what we did except we didn't walk that last mile but instead jogged it (more like ran it--yes, that's Paul in his long-johns again). That probably saved us half-an-hour. All the quicker to get to the beer and subsequently Gustav's in Leavenworth.
Click
here
to view.