Colchuck Peak - North Buttress Couloir, April 2003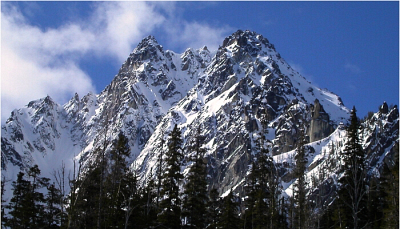 I first climbed Colchuck Peak in May of 1998 with Chris Rose and John Weller. It was my first real snow camping experience and glacier climb. The following May we again returned to climb Colchuck Glacier, as two parties of two - Dave Shannon and Chris Rose, John Weller and myself. I returned several years later with Tom Sjolseth and Paul Klenke to do a combo climb of Colchuck Peak and Dragontail Peak on Friday-Saturday. Our intention was to hike in to camp at Colchuck Lake on Friday, set up camp and climb Colchuck Peak's North Buttress Couloir route that afternoon, and then climb the Triple Couloirs route on Dragontail the next day. We'd also planned on hiking out that same day.
(By Paul Klenke): We started at the Bridge Creek Campground (2,070 ft) at 6:15AM. It is approximately 3.5 miles of road travel to the usual summer trailhead. The road became permanently snow-covered at around 2.8 miles right about at the Eightmile Creek Trailhead. In an hour-and-a-half we were at the trailhead. I kept my Salomon trail running shoes on even when it turned to all snow as the bootpath was sufficient for easy travel. Since the snow was hard in the morning, I wound up keeping them on all the way to our lakeside camp. In four-and-a-half hours we hiked the 3.5 miles of road and 3+ miles of bootpath trail and arrived at the south end of the lake whereupon we made camp (and set up Sergio's deluxe triple-man car-camping tent -- the "Escort") in a pre-existing camp spot at the first stand of trees. After a short break of less than an hour, we headed out to climb the NBC of Colchuck. It was noon... (
more...
)
Click
here
to view photos.