Mount Constance - West Arete, September 2005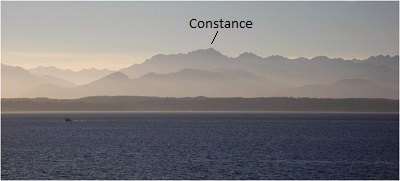 Perhaps the most prominent peak viewed from Seattle, Mount Constance is one of the Olympic "big boys". At 7743 feet, Constance is the 3rd tallest peak in the range and along with The Brothers, Mount Olympus and perhaps a few other token Olympic peaks, it makes for a worthy objective. In a mountain range comprised primarily of rotten volcanic rock, Mount Constance stands apart in that it is among very few that boasts an enjoyable technical route on reasonably solid rock - the West Arete. Certainly, there are easier routes, namely the Finger Traverse or Terrible Traverse, but for a route-bagger such as myself, only the West Arete would do.
Convincing Eric to join me on this adventure took some doing - this would be his third time on Constance, and as such I'm sure he won't hesitate to demand repayment in full with some grueling, out-of-the-way suffer-fest that I'm obligated to join him on. Oh joy. Anyway...after parking at the foreshortened road's end, we descended the scarp left behind by the washout and pushed our bikes along a dusty path paralleling the Dosewallips River. Regaining the road at the other end of the washout, we pedaled the five miles or so to the bridge spanning Constance Creek (a gradual but constant incline) with the Lake Constance Route trailhead sign just beyond at right. Behind a large boulder below at left is a good, albeit unnecessarily strenuous to get to location to stash a bike...or thirty.
Starting up the trail, I quickly realized that this was something quite unlike the average national park trail. Resembling more of a climber's path than an established NP trail; it is unrelentingly steep with some honest 3rd-class scrambling for the final 1000ft. Ok, now I can appreciate what 3250ft in 2 miles *feels* like! Moving as if my pack were loaded with rocks, I staggered the final flat feet to Lake Constance and beheld Avalanche Canyon with its imposing towers of light-brown colored rock. Following the eastern (right) shore, I joined Eric at a small campsite (permits required) on the north edge of the lake and settled in for a night of beef stroganoff, Crown Royal and fitful sleep thanks to constant snafflehound harassment. I awoke the next morning (assuming I even slept) to find one of my camp flip-flops missing, presumably carted-off by some deviant critter on a diet of salty petroleum by-products. Yum!
Setting out shortly after sunrise, we found a path through the talus starting from directly behind a pit toilet...how's that for privacy! With a keen eye for this path, we followed it by traversing and ascending scree slopes on the right-side of the canyon towards the normal route beneath the "Cat Ears". Then crossing back to the left, another path continues up grassy slopes and talus to the edge of a partially buried ice patch. Steep canyon walls at left featured a bizarre texture of bubbly rock (pillow basalt - lava that erupted under the sea and cooled very rapidly). Upon closer inspection, the rock almost looked alive, as if it were a scene from Dante's Inferno, with the contorted bodies of tortured souls frozen in geologic time. I must have an active imagination. A short, slippery stroll along the flat ice patch soon saw us to the final tedious scree and talus cone below a windy Crystal Pass. Now shivering, we took a moment to recharge and re-hydrate before roping up.
Eager to start out on the sharp end of the rope, Eric led up a short dihedral/chimney just right of a buttress, and then turned right following a diagonal ramp. Still simul-climbing, we made slow, but steady progress working up and right on a steep, airy wall of marginally protected 4th and 5th-class rock. Above, the angle eased somewhat before Eric disappeared from view around a steep corner at right. Once around the corner, we entered a small canyon-like feature with steep towers on either side, leading to a relatively level gravel bench above. Working right on a narrowing ledge, we managed to skirt the wall before us by turning a corner on a hidden ramp. Angling back left once above the wall, we scrambled up some talus then scooted along a short bit of exposed ridge crest to reach more flat and gravelly terrain at the base of a steep, intimidating wall.
Happy to continue on lead, Eric approached the wall and began following a narrow ledge up and right for about 20 feet (pitons here and above) before turning steeply upwards. Now on belay, Eric worked a few delicate moves (crux ~ 5.6) and was soon cruising easier terrain up and left to reach a good 2-piton and chock-stone belay below a chimney. After flailing up the chimney, I followed the rope up easy, broken rock and then traversed left on a ledge/down-sloping slab at the base of an overhung wall. Rounding a corner I reached Eric's uncomfortable belay nook, confirming my suspicion that he had run out of rope on this pitch. Easier terrain seemed to lie ahead, so we passed on the steep open-book at right and simul-climbed leftwards to gain a low-angle talus slope and soak-in our first rays of direct sun. The summit block was now visible some distance away with a party of two already on top. After a short break, we proceeded to scramble along an airy 3rd-class arete to reach easy talus below the summit ridge crest. Crossing over onto the sunny east-side of the ridge, we continued scrambling on enjoyable rock north towards the summit and soon merged with the normal route. We untied and dropped the rope here and scrambled the remaining bit towards the summit. Working up ledges on the east and north side, we spiraled around the summit block gaining the final feet on its southwest side.
With Seattle, Bellevue and Everett plainly visible to the naked eye, visibility was about as good as it gets. Cascade giants like Baker, Glacier and Rainier really dominated the eastern skyline while all other peaks blended into a wave of green just beyond the flatlands. Hood Canal and the South Sound lay at our feet while an impressive array of Olympic peaks were on full display - from The Brothers, Mount Washington and Mount Ellinor to the south, the Olympic Massif and Mount Anderson to the west and southwest, and finally Warrior Peak, Mount Deception, Mount Mystery and The Needles to the west-northwest. Now if only we could just parachute back down to camp!
Retracing our steps, we returned to where the rope was stashed and descended sand and scree slopes en route to the Terrible Traverse (the Finger Traverse seemed a bit out-of-the-way). It looked to be snow free; an observation confirmed after inquiring with the aforementioned party. Named for a precipitous snow cirque that must be crossed above a "terrible" run-out, the traverse was really just an easy scree slog this late in the season. Climbing back up a rib left of the cirque; we crossed into a sandy, snow-free gully and made our way up until we were adjacent to an icy snow patch at left. Continuing left, we skirted around the snow patch by staying in a moat and soon found ourselves in yet another sandy gully with notch above. Descending the other-side of the gully, we carefully picked our way down until able to surf sand and scree into the basin below. As the basin opened up, we made a descending rightward traverse, aiming for a notch left of a small pine. Below the notch, a final scree gully led back into Avalanche Basin whereupon we regained our path from earlier that morning.
We packed-up, smoked a cigarette and dove-in for one final serving of body-abuse on the hike back down to the road and the bikes. The ride back to the washout must have taken me under ten minutes, with both of us narrowly avoiding a party of Evergreen College types outfitted with ukuleles, patchouli scent and towing a trolley full of camping gear. Back at the car the beer was warm, but spirits were high nonetheless, and in hindsight, it seems fitting to have pulled-off this climb in what was truly the last nice weekend of the Summer. Cheers!
Click
here
to view photos.