Mount Anderson - East Ridge of West Peak (and Mount Anderson proper), July 2009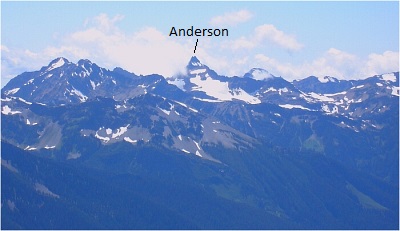 I credit long-time climbing partner Eric H. for initially drawing my attention to Mount Anderson, a large mountain massif hidden deep within the Olympic Mountains. To be honest, it seemed like an unremarkable, out-of-the-way pile representative of most of the peaks in the range. One could say that I wasn't exactly enthusiastic about Anderson. But, alas I promised Eric I'd climb it with him someday if he would accompany me on the West Arete of Mount Constance - a peak he had already visited two times prior. In my ever-expanding quest to visit unclimbed (by me) peaks in unfamiliar (to me) pockets of our local mountain ranges, Anderson's increase in priority on my to-do list was virtually assured. By the summer of 2009 it was finally getting to be time to pull the trigger on the trip. Despite the unfortunate fact that Eric wouldn't be able to join us, Paul K's timely suggestion to climb the peak over the July 4th weekend was music to my ears. *All text from this point on (excluding image captions) by Paul K. and based on his SummitPost page - East Ridge from Flypaper Pass.
Described in this report is the standard route (the only route mentioned in the Olympics guidebook). But whereas the guidebook is sparse (as always) with details, I will fill you in with some. What you need to be prepared for when climbing this peak is loose rock and route finding, particularly in poor (fogged-in) weather. The route is circuitous depending on one's start point. For probability's sake, I'll start the route description from Anderson Pass a couple of miles SSE of the summit. The added attraction of this route is it will take you past the hydrographic apex of the Olympic Range. You can stand at the triple divide point, one of very few in the world. A cadenting sweat bead on your brow could drop into the basin to the south and drain away toward the Pacific Ocean via the Quinault River. Or the bead could drop to the northwest down the north face of the mountain and find its way to the Strait of Juan de Fuca by way of Hayes Creek thence the Elwha River. Or the bead could drop eastward onto the Eel Glacier and slide away to Silt Creek thence the Dosewallips River to the Puget Sound (Hood Canal). Or if you're not careful, you yourself could fall into one of the above, with that cadenting tear replaced by cadenting blood. But enough of the macabre... (
more...
)
Click
here
to view photos.