The Gothic Basin "Enchainment" - Del Campo Peak (South Face) & Gothic Peak (West Ridge), October 2006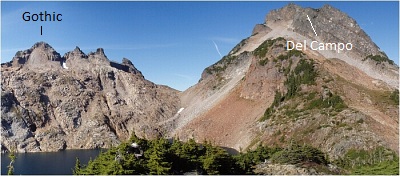 With more exciting climbing objectives for the final nice weekends of autumn on hold courtesy of a ruptured finger pulley (injured in the climbing gym no less), I set my sights on some low hanging fruit in the Mountain Loop area. Having failed at a previous attempt climbing a snowbound Del Campo Peak in November 2001, it's long been a nagging goal of mine to complete those final feet above the notch to the summit. Since Del Campo alone makes for a relatively short day trip, I chose to combine it with an ascent of nearby Gothic Peak and thereby complete a small enchainment of sorts. Jeff Rodgers and partner had completed a similar trip earlier in the year and confirmed that it is possible to descend through cliffs low on Del Campo's South Face in order to reach the saddle between the two peaks. Doing so keeps the backtracking to a minimum and makes for a rather aesthetic tour of scenic Gothic Basin.
I parked the car at Barlow Pass and started hiking down the Monte Cristo Road around 10am. I turned off the gravel roadway just before the bridge (partially collapsed?) and started the steep grind up the Weeden Creek Trail. Reaching Gothic Basin after about two hours of hiking, I began making my way up a heathery shoulder beneath Del Campo's prominent Southeast Buttress. A worn path for the most part leads all the way to the edge of a large talus slope (snow earlier in season) beneath a rocky gully in the South Face. Once above the talus slope, I scrambled blocky terrain just left of the gully (exposed 3rd class). Aiming for a small clump of trees above a notch, I soon gained the ridge crest and turned left (west) for the final scramble to the summit. Staying on the far-left side of a small amphitheater, I enjoyed some fun scrambling directly along the crest and reached the summit soon thereafter. (
more...
)
Click
here
to view photos.