Dragontail Peak - Triple Couloirs, April 2003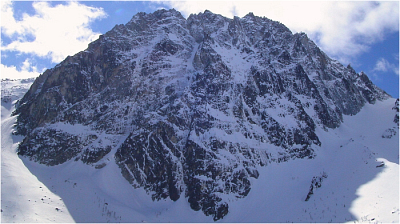 Paul and I ventured back up to Colchuck Lake the weekend following our Colchuck North Buttress Couloir trip to take care of some unfinished business on Dragontail Peak. Route conditions were reportedly still quite "in" and it was now possible to drive within a half mile of the trailhead. Certainly, neither of us were willing to wait till next season to attempt the Triple Couloirs. We drove up and pitched our tent on a flat patch of snow off the side of the road a little beyond the Eightmile Creek Trailhead but just before the bridge across Mountaineer Creek. We awoke the next morning at the ridiculous hour of 3:00am, packed our gear, and started hiking the road to the trailhead. Shortly after the second creek crossing it started to get light out and it began to snow lightly. The peaks across the valley were cloaked in a blanket of cloud and fog. This wasn't a good sign and Paul and I contemplated climbing a much less technical route on Enchantment Peak and attempting the Triple Couloirs the following day.
By the time we reached Colchuck Lake, the snow flurries had tapered off for the most part, the clouds appeared to be lifting, and we found few excuses not to go for it. After ditching our trekking poles next to three other pairs by the lake, we put on our harnesses and followed a fresh bootpath leading up towards the base of the first/Hidden Couloir. Following older tracks, Paul traversed left over a small cliff and found himself on a steep, exposed slope, with thin sugary snow over slabs. He carefully retreated back to where I was relieving myself, and climbed directly upwards to the base of a short ice step. I joined Paul at this step, and easily climbed up, and over the bulge onto softer snow above. The moves were a bit spicy considering the exposure and the fact that we were unroped. But, we had better get used to it, considering what lay ahead. (
more...
)
Click
here
to view photos.