Golden Ears (North) - Panorama Ridge, July 2006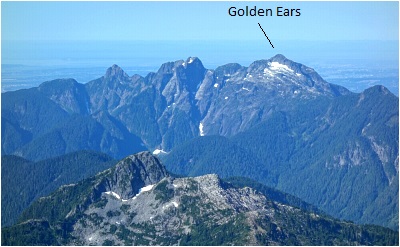 Golden Ears is one of the largest and possibly also the most popular provincial parks in British Columbia. The park was named after the twin peaks of Mount Blanshard, which shine gold from the setting winter sun. Located in the South Coast Mountains, north of the Fraser River, Golden Ears extends about 34 miles north through untamed mountain wilderness to the peaks and valleys bordering Garibaldi Provincial Park.
For driving and approach details, a good place to start would be the park brochure available on the BC Parks site. Most fit parties should easily be able to pull-off a North Ear outing in a day (it took me about 10hrs door-to-door from my in-law's North Vancouver residence). Follow the West Canyon Trail which links with the Golden Ears Trail to eventually reach the summit of the North Ear (~7.5 miles one-way) - part of the two horn-shaped granite formations easily spotted from as far away as Bellingham. An alpine cabin sits below the summit on Panorama Ridge and sleeps eight. Many climbers apparently use the cabin as their base to make an approach to the Golden Ears - a mere hour-long slog and scramble away. (
more...
)
Click
here
to view photos.