Mount Hardy - "OpenFly Coulior", May 2008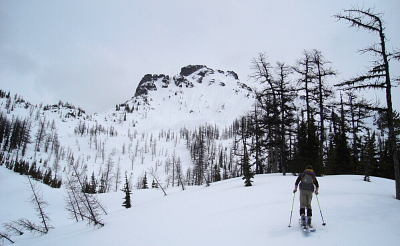 With hwy20 having opened not two days prior, the race was on to harvest what was left of the pow, before the masses and/or freeze/thaw rendered the slopes a bumped-out crud fest. What to do, what to do? Let's see, Silverstar, Birthday Tour, Maple and Rainy Passes - been there, done that...aha, but wait! Phil Fortier had posted a couple trip reports a few years back of ski descents on Mt. Hardy's north side:
NE Coulior
and
"Open Fly Coulior"
. These features seemed intriguing enough to lure Tod and me to go have a look for ourselves.
Starting from the plowed pullout near the Easy Pass Trailhead, Tod and I crossed the road and maintained a steady ascending traverse bearing to the southeast, with only one steep stream crossing worth noting before turning up a broad timbered rib. Before long, the rib eased back and gave way to mostly open slopes beneath the 7600ft western sub-summit of Hardy, referred to as "Nancy Drew" in Phil's report. We continued up to a gentle saddle just left of "Nancy Drew" to scope out what would be our return route back up from Swamp Creek Valley. It seemed simple enough - a wide-open bowl, with an hourglass section lower down leading to an apron above the valley floor. (
more...
)
Click
here
to view photos.