Steamboat Prow - Interglacier, June 2008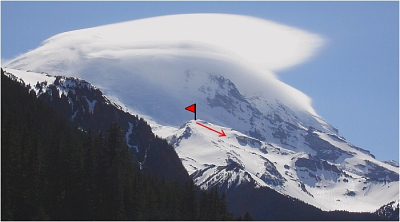 "Juneuary" they're calling this unseasonably wintry weather we're having this late spring. Indeed, it must be extremely rare to find over a foot of fresh powder snow on the Interglacier in June. Sure, one could always snowmobile into Glacier Basin in the winter and establish camp for the weekend and hopefully find the Interglacier in stable conditions, but to nail such conditions right after the White River Road has opened is remarkable. Perhaps what's more remarkable was the weather we encountered on this fine day. With only Mt. Baker, Little Tahoma and presumably Mount Adams to the south also poking above the sea of clouds, the forecast was actually accurate for a change; it was indeed cloudy and rainy below the cloud deck. We here in the PNW are very fortunate to have a mountain like Mt. Rainier to play on, as it affords us the opportunity to get up above the weather. And what a burly mountain it is!
Speaking of, I noticed an interesting phenomenon - it almost seems as if the Emmons Glacier itself is significant enough to create its own microclimate. While thick cloud cover hung over the entire Puget Sound Basin and Cascade Range, and surrounded Mount Rainier on all sides to about the 7000-ft level, a portion of the valley draining the Emmons was free of clouds oddly enough. It's almost as if an unseen current was flowing down the glacier and pushed the clouds back a couple miles from the glacier's toe. Whatever the cause, this effect gave us the illusion that it was a sunny day above 5500-ft, until of course we got high enough to see the clouds everywhere else. It was probably the only 'sucker hole' in Western Washington that day! (
more...
)
Click
here
to view photos.