Jim Hill, January 2007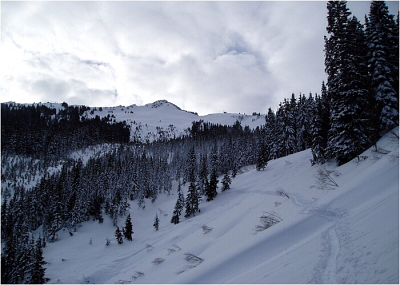 Please forgive the repetition, but it's been another a winter of chair lifts and the pillaging of lift-accessed backcountry for me...which explains the dearth of b/c reports so far. What can I say? Take the excellent snow conditions we've enjoyed this season, and mix in some expert 'slope management' not to mention a keen awareness for the finer lines, and you've clocked the equivalent vertical feet-per-day of say 10 Jim Hill's. I know, I know...what gluttons we are.
But alas, lest we become hopelessly lazy and succumb completely to the mechanized convieniences society affords us, there's always a time and place for a backcountry tour. It had been about a week since the last dump - slopes at the resorts were obviously shredded, but with daytime temps in Seattle below freezing all week long, the backcountry promised to deliver in droves. And so it came to be that Andy and I would finally stretch our legs for our first tour of the season. (
more...
)
Click
here
to view photos.