Lemah Mountain - Lemah Glacier, July 2004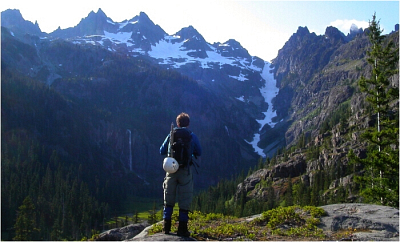 The name Lemah, meaning fingers in native Chinook, intrigued me. Having lived in Indonesia for many years, I know the local word for the number five is "lima." Could there be some correlation between the two? It seems plausible that in some distant past, the words for the number five and fingers (or hand) were essentially one and the same. At camp that night, Eric and I debated the possible etymological roots of "lemah", concluding that Native Americans and Indonesians (and their respective languages) derive from a common source, having made its way to this continent via some ancient arctic land bridge. The possibilities of this link fascinated me!
It turns out that the native "lemah" is the French word for hand ("le main") borrowed into the Chinook jargon. "Although the Northwest was never part of the French colonial claims in North America, and only one or two French ships visited the outer coast during the early fur trade era, the French language was the main outside influence on the development of the jargon until the widespread influx of English-speaking Americans and British from the 1830s onwards."* Well, so much for our theory. French speaking natives aside, this trip initially started out as an attempt on Chimney Rock's classic East Face. The weather gods, unfortunately, had other plans in mind. *Source
here
. (
more...
)
Click
here
to view photos.