Lighthouse Park - Various, August 2006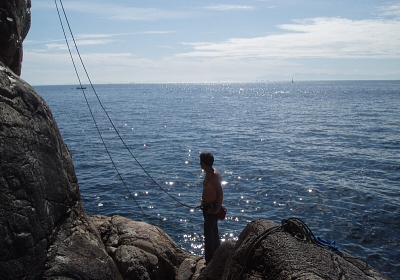 AG, I have both cragged at Lighthouse Park numerous times over the years. For those who live in and around North Vancouver, the seaside crags at lighthouse offer a few short, but fun single pitch climbs suitable for those too lazy or unmotivated to make the drive out to Squamish. If you fancy a casual afternoon of top-roping followed by a refreshing dip in Howe Sound, look no further.
Double Overhand (10b/c) & Arbutus Tree (9) are our favorite climbs in the area. Come early because there aren't too many routes/anchors and the place fills up quickly. Wrap up the day making a loop hike via the lighthouse back to the parking lot. Oh and speaking of which, finding parking is often a bitch!
Click
here
to view photos.