Mount Rainier - Tahoma Glacier, August 2000 (plus Saint Andrews Rock)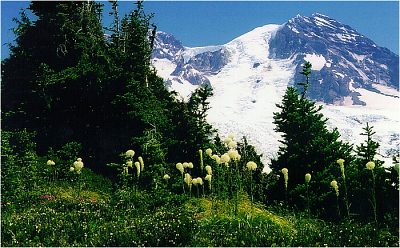 John and a couple of his friends had attempted this route a few weeks prior and were denied a summit thanks to a freak summer snow storm. He vowed to return and, along with myself invited a friend of his (forgot his name) who was visiting from California. We all took vacation from work and allocated 4 days in August for this climb.
We left early on a sunny Sunday afternoon and drove up to the Westside Road washout. After an endless 4 or 5 mile walk up the gravel road in the pounding heat we reached the trailhead. We were sweating profusely and quicky burned through all our water. We took any opportunity to filter what was available of the locally scarce running water into our water bottles. We soon gained a ridge and reached timberline shortly thereafter. We decided to set up camp next to a delightful little pond on a level bench with spectacular views westwards. We were starving by this point and unfortunately so were the swarming mosquitos. (
more...
)
Click
here
to view photos.