Mount Shuksan - Fisher Chimneys, June 2002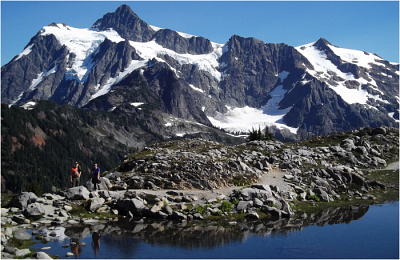 Ben was visiting the Northwest from San Diego again. As before, I arranged for us to climb something together. The visit being somewhat of an annual/bi-annual event for Ben, I was sure he'd appreciate climbing a relatively "classic" route up an undeniably spectacular peak. As such, Mount Shuksan via the Fisher Chimneys fit the bill quite nicely. The weather outlook looked favorable for the weekend and together with Tom we headed over to the Mt. Baker ski area for the short slog over to Lake Ann.
We parked at the upper Mt. Baker ski area parking lot and hiked up the still completely snow covered ski runs to the ridge below Artist's Point (later in the season it is possible to drive to Artist's Point). Looking back, one could see Tomyhoi (left and partially out of view) and the American/Canadian Border Peaks. Mount Baker rose majestically from the other side of the ridge to reveal the rarely seen (by me) Park/Boulder Glaciers. (
more...
)
Click
here
to view photos.