Mount Sill - North Coulior/Northwest Face, July 2010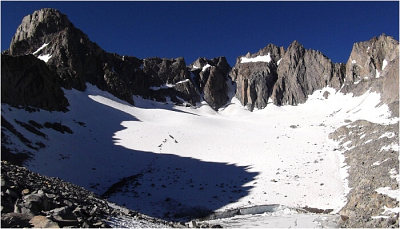 Less than 90 vertical feet shy of North Palisade and somewhat offset from the NW-SE trending spine of fourteeners cradling the dramatic Palisade Glacier, Mount Sill is a high and rewarding summit offering a commanding view over what has been described as the most alpine region of the High Sierra. Motivated to experience The Palisade Glacier - the largest in the range, I zeroed-in on a climb of Sill's North Coulior/Northwest Face. Choosing this route satisfied my requirements for a northern approach and for an aesthetic Palisades scramble on a peak exceeding 14,000 feet. As with the preceding Mount Ritter climb, High Sierra Author, R.J. Secor's subjective judgment that "Mount Sill has the best summit view of any peak in the Sierra" also helped simplify the process of deciding what to climb in The Palisades.
Still sore from the Ritter climb the day before, I pulled into the trailhead at Glacier Lodge a bit before 2pm. Signs indicated that overnight parking was forbidden so I backtracked a hundred yards or so and parked at an unsigned pullout/shoulder just before the resort. In speaking with the owner of the only other vehicle parked next to me, I decided to gamble on the unlikely possibility of getting ticketed and/or towed and left my car here. The actual trailhead with overnight parking apparently lies about a half-mile down the road. (
more...
)
Click
here
to view photos.