Tieton - Goose Egg Mountain, The Bend & Royal Columns, August 2007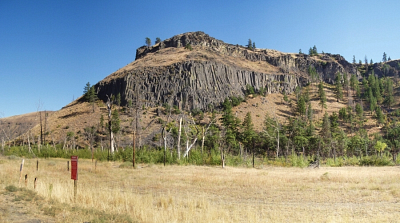 In search of dry rock, Martin and I once again salvaged an August weekend by escaping to the desert. Not having climbed at Tieton before, I was grateful for the opportunity to have Martin coach me in the art of crack climbing. We set out from Seattle early on a Saturday morning and made our way to Yakima, then towards Rimrock Lake for a 'warm up' on Goose Egg Mountain's Ride the Lightning (5.9). With seven mostly bolted pitches and featuring a stellar gear lead up an aesthetic dihedral pitch, Ride the Lighting seemed a fine introduction to Tieton climbing. Following that, we'd spend the rest of the weekend climbing finger, hand and fist cracks at The Bend and Royal Columns.
Most of the climbing on Goose Egg Mountain appears to be concentrated on the steep, south-facing wall. We hiked a steep, dusty trail to its base and were sweating pretty good by the time were geared-up and ready to climb. Phew! It was going to be a scorcher of a day!
I took the first 5.8 pitch and worked my way right into a shallow dihedral before continuing up on relatively well featured, but occasionally loose rock. The spacing between bolts seemed about right for the difficulty, that is until I was just two bolts shy of the belay anchor. Either a hold broke free, a bolt was removed or the route is sand bagged, for the moves directly beneath the second-to-last bolt were certainly not 5.8. An extra bolt or gear placement would have been nice! I made countless false starts before chickening out and having Martin lower me back down. Martin then climbed up to that same spot and suffered the same fate as me. Screw it - we bailed for the climbs at The Bend instead.
Driving back down HWY 12, we turned off at The Bend parking area, shouldered our packs and hiked up to the base of Ed's Jam (5.8). I led the first short, easy pitch (assuming one can even call it that) to a belay at a pedestal directly beneath the classic hand crack for which this route is named. Martin then took the lead and gracefully jammed on up to the chains above. I had a much more difficult time of it and must have spent a good half hour flailing up the crack. Wow! Somebody needs to work on his jamming technique!
Once on top, we hiked over to the chains for Pure Joy (10c), rapped down and climbed the route on TR. Martin and I both grunted and sweated our way up this tough finger and hand crack. This type of climbing is really physical, and I was pretty well worked by the time I reached the chains.
After Pure Joy, Martin lead the aforementioned offwidth/fist crack, with me once again begging to be lowered and Martin refusing to do so. Especially on this route, Martin's large, fleshy hands definitely have the advantage over my relatively small hands. That's my excuse anyway, and with that we called it a day.
We climbed at Royal Columns the following day. I started the day leading Western Front (5.3)...Jesus, just a humble 5.3...and followed that up with Rough Boys (5.4). Wow, is that hardcore or what?? Seriously though, the 5.3 - 5.5 climbing here feels like Exit 38 5.8s...right? Bueller?
Martin then styled up Mush Maker (5.7) making it look much easier than it was. I only hung once this time, and the climbing certainly felt easier if I resisted my preference for face moves and simply jammed both hands and at least one foot in the crack.
Our last climb of the day was Good Timer (5.4). The marginal pro at the crux gave me some pause on this one, but as before, I found that jamming the crack rather than scratching for face holds made the moves much easier.
Click
here
to view photos.