Tieton - Goose Egg Mountain, The Bend & Royal Columns, August 2007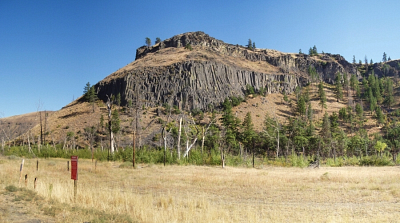 In search of dry rock, Martin and I once again salvaged an August weekend by escaping to the desert. Not having climbed at Tieton before, I was grateful for the opportunity to have Martin coach me in the art of crack climbing. We set out from Seattle early on a Saturday morning and made our way to Yakima, then towards Rimrock Lake for a 'warm up' on Goose Egg Mountain's Ride the Lightning (5.9). With seven mostly bolted pitches and featuring a stellar gear lead up an aesthetic dihedral pitch, Ride the Lighting seemed a fine introduction to Tieton climbing. Following that, we'd spend the rest of the weekend climbing finger, hand and fist cracks at The Bend and Royal Columns.
Most of the climbing on Goose Egg Mountain appears to be concentrated on the steep, south-facing wall. We hiked a steep, dusty trail to its base and were sweating pretty good by the time were geared-up and ready to climb. Phew! It was going to be a scorcher of a day! (
more...
)
Click
here
to view photos.