Mount Adams - Adams Glacier, July 2004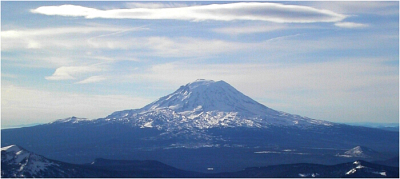 Having climbed the mountain via the South Spur route early in my climbing career, Mount Adams had been relegated to my been-there-done-that list, and, until recently wasn't even on the proverbial radar for me. Enter the Hummels, Josh, Sky (and others) with their numerous, radical ski descents of north-side routes that previously had only been climbed, and it was only a matter of time before I allowed myself to be drawn to the allure of my own crazy snowboard descent. Furthermore, I had never seen the dramatic north-side of Adams in person, which, as it turns out, was incentive enough for me to explore the area.
Either laziness or caution won out, for when Andy Johnson, Eric Hoffman and I finalized plans for a climb of the grand Adams Glacier, skis or snowboards didn't end up factoring into the equation. Rather than hiking up the North Ridge and skiing down the North Face of the Northwest Ridge as I had originally intended, we wound up climbing the Adams Glacier and descended the North Ridge on foot. In hindsight, perhaps a mellow ski-descent of the popular Southwest Chutes is more my speed anyway. The NFNWR looked steep and had spots of ice that would have to be negotiated on the ski down...no place for an adventurous knuckle-dragger looking for an easy cruise down from a 12,276-ft summit! Ok, now that that's cleared-up, on to the climb...
We reached the Killen Creek Trailhead around 4PM only to be overcome by fiscal duty at the sight of a National Forest Service vehicle parked at the trailhead. Nobody but Eric had cash, and I think a check was written to come up with the remaining balance ($15/person). It was my task to stash the beer somewhere out of sight, and as such didn't exactly pay attention to the subtleties of how the climb was being funded. Eric handed me a permit which I attached to my pack, and that was good enough for me. We hiked the Killen Creek Trail from the Killen Creek Trailhead for 3.1 miles to the junction with the PCT. We crossed the PCT and continued hiking another mile on the High Camp Trail that ends at c.6900 ft at the edge of the Adams Glacier moraine. We continued into the fog, left up snow and heather and located some comfortable bivy sites among scrub evergreens at c. 7100 ft.
After a breezy night at camp we awoke to clear skies with a solid cloud deck no more than a thousand feet below us. We got going around first light and soon encountered a party of three we had witnessed leaving the trailhead the day before. They were retreating, the "leader" citing the reason being that "it's not ready," presumably referring to the Adams Glacier route. Judging by their incorrectly mounted ice axes and apparent poor knowledge of the route (the "glacier direct" route they had said earlier), I'd venture to say that they made the right decision. We continued up the moraine to the glacier's edge and roped up; all the while watching two rope teams of three making impossibly slow progress up the relatively flat lower glacier. With myself in lead, Eric in middle and Andy in back, it took us no time before we also caught up with the two parties. What's this? They too were retreating! Do they know something we don't? Someone wasn't feeling too well it turns out, and, there were "other issues," reported the Mounties leader. She then asked if any of us were "intermediate" class leaders. "Oh HELL no"...I thought to myself, and declined the offer. The Adams Glacier was now ours alone to enjoy! We began ascending the glacier proper, occasionally kicking in our front-points and swinging our tools to climb over short, steep, icy spots on the route.
We traversed left on a ramp under seracs, then cut back right once above them to climb over another steep ice step (traversing farther right, one could avoid the step). Somewhat annoyed with my antics, Eric informed me that I had the advantage over himself and Andy, referring to the rigid crampons and two ice tools I was wielding (they each had lesser crampons, one tool and a regular alpine axe). I prudently drove in an ice screw to protect the ice step. After a pitch of snow climbing, I started up a 50-ish degree dirty ice slope, which again could probably have been avoided by staying farther right. Fortunately, I was already above the ice, in softer snow, when I heard some commotion behind me. Andy had apparently busted a crampon while climbing the ice slope. Eric insisted I build an anchor from which I could set up a belay. I was completely out of screws (not that they would have helped where I was), and had already used up all the pickets. I had no choice, but, to sacrifice one of my ice tools and got to digging as deep a trench as I could to build a dead-man anchor. Eric, in turn, anchored himself to his alpine axe which he was able to hammer into the ice, and proceeded to belay Andy up to him. Poor Andy had to chop steps for his right foot all the way up that slope to reach a small platform I had tamped out for him. I was shocked to learn that he had been wearing aluminum crampons, having assumed that, given the varied nature of the route, he would have known to bring something more durable.
Not to be outdone, Eric, using a prussic loop, was able to fashion an ad hoc toe cage for Andy's crampon, thereby saving the day for us all. With the drama finally over, we got back to the task at hand. We continued up, making an awkward step over a bottomless crevasse, then traversed right, crossing over some funky snow bridges. We found ourselves at an impasse a couple hundred feet later: a HUGE bergschrund! It was easily 40 - 50 feet across, and seemingly spanned the entire upper Adams Glacier with some 40 feet of vertical ice to gain the lip on the opposite wall. Not seeing any other viable option other than an obscure ramp leading up a lower-angled section at left on the opposing 'schrund wall, I attempted to descend mushy snow into it. I punched through a couple times and quickly decided that wasn't the way. Looking back down the glacier, Andy noticed some tracks leading off to the left. So we went left, way left. Traversing up and over an exposed ice-rib, we easily climbed into the shallow end of the same 'schrund.
Weaving between huge walls of ice and across interesting snow bridges, we found what appeared to be the last remaining path of bridges across the 'schrund. We reached the relatively flat but crevassed upper-section (one more punch-through for me) in front of a huge serac with a massive ice cave at bottom and debris from serac collapse scattered everywhere. We made haste getting out of the firing zone and headed left around another large serac, stopping finally at a safe spot to grab a bite to eat. It was now around 1:00PM. After our break we continued up to the summit cap, dropped our packs and made the long trek to the true summit. We encountered the usual assortment of South Spur climbers at the summit. I was particularly jealous of those preparing to descend on skis. The views from up there were, of course, typical of those from any southern Cascade volcano...Mt. Rainier, Hood, St. Helens, the Goat Rocks and really not much else. We took a few summit snaps and soon found ourselves hiking back to our packs to begin the long North Ridge descent.
With views over the Adams Glacier to the left and the impressive Lava Glacier headwall at right, the North Ridge route really has little else to say for itself. Loose, as only a volcano can be, with mostly class 2 and occasional bits of class 3 scrambling, the North Ridge makes for a quick-and-dirty, low-commitment up and down-route. A "path" over scree and pumice takes over where the snow ends, and is generally quite easy to follow. Half-way down the ridge, the path fades somewhat, but, makes a short jog just left of the crest, before re-gaining the crest again. From there, it was straight (although tedious) sailing back to camp. We arrived back at camp a little before 6:00pm, packed up, and reached the trailhead around 8:00pm. The combination of challenge (never too difficult, but, enough to get your attention), scenery, teamwork, weather, and snow conditions made for a truly memorable climb. I honestly cannot think of another glacier route anywhere that is as varied, interesting, and enjoyable as the Adams Glacier.
Click
here
to view photos.