Mount Baring - Northwest Ridge, October 2003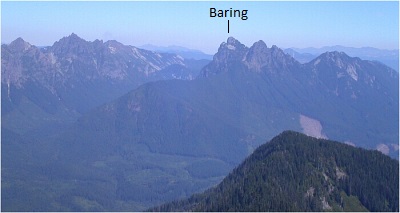 Just east of the town of Baring, its twin towers rising high above the north side of highway 2, Mount Baring is hard not to notice. The highest and most easily attained of the two summits, the North Peak (6125'), features an easy scrambling route and also rock routes of great technical difficulty. The epic story of the struggle to make the first ascent on the North Face is detailed in the Cascade Alpine Guide and is ultimately what spurred my interest in visiting the mountain.
After negotiating a small washout on the Barclay Lake Road, I proceeded up to the Barclay Lake Trailhead without further issues (a day earlier, this would not have been possible as the road was allegedly submerged under a foot of water). From the parking area, follow the upper overgrown road/trail to the trailhead toilet (not the Barclay Lake Trail) and beyond, until reaching a large cairn. From the cairn, turn right, and follow the steep, brushy and damp trail as it parallels a mossy streambed. The trail continues steeply through dense forest, before reaching the timbered crest of the Northwest Ridge.
Turning left, follow the ridge-trail southeast, descending on the south side (right) of the ridge for a bit, before climbing back up on a steep duff slope to gain a saddle above a small basin. Descend into the basin (stay left on trail where possible), aiming for the obvious gully leading to the summit gap. From the summit gap, turn left and ascend a short, steep slope to a small plateau below the summit block. Scramble easily to the summit and snap a few pictures before the threatening clouds settle in for good (2.5 hours from car). Many variations possible - scrambling on a small rocky ridge on the NE side provides an easy but exposed sampling of the North Face. From the summit, descend low-angle slabs to the SW, and traverse back left to the small plateau. Retrace your footsteps back down to the car and try to enjoy the steep, slick trail back down from the ridge.
Click
here
to view photos.