Mount Deception - Gilhooley Saddle, July 2009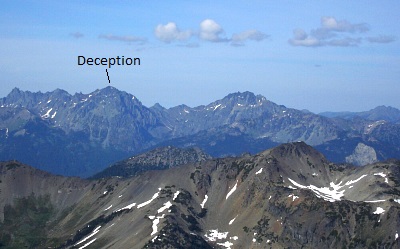 At most I might average a single Olympics trip a year. After all there's only so much choss that even I can take. Having climbed both Anderson and Deception within a few weeks of each other, one might ask what the hell has gotten in to me this summer. Have I lost my mind? Perhaps yes. But then again, I had it on relatively good authority that a trip to climb Mount Deception would be well worth the effort, no matter how loose or easy the climb for that matter. From outrageously scenic Royal Basin to the lofty summit (by Olympic standards) with its expansive views of surprisingly rugged peaks both near and far, Deception doesn't disappoint. But make no mistake; the peak certainly harbors some awful rock, although frankly I didn't find it any worse than that which I have encountered on so many peaks in that mountain range east of Puget Sound. Besides, being that it's the second tallest peak in the Olympic Mountains alone warrants visitation by any avid Seattle-based peakbagger...er, um chossaholic in my opinion. It certainly also doesn't hurt that the climb is doable in a day from my bed in North Seattle. Bed-to-bed in less than 20 hours I like to say...ha ha! Had I not gotten hosed by the damn ferry wait once again I'd have made it home in time for a late dinner even!
Ever the glutton for punishment, John Lupo answered the call to join me with relatively little notice. As John would be driving up from Aberdeen, we agreed to rendezvous just outside Sequim and drive to the Dungeness Trailhead together. Volumes were light on the 5:45am Edmonds-Kingston sailing and I caught-up on some much needed sleep during the half-hour transit...that is until I was jolted out of my slumber by an irate ferry worker beating his fist on my windshield. Save for the vehicles queued behind me, the entire ferry was empty. Whoa, good morning everyone!
It took me about 45 minutes to drive to the John Wayne Marina near Sequim where I waited a few minutes for John to arrive (Lupo, not Wayne). After transferring gear into my car, we turned back onto HWY 101 and then turned off onto Palo Alto Road (right if going south-bound from the marina). The road becomes FSR 28, then taking a right onto FSR 2880 we continued past the Dungeness Forks Campground to the junction with FSR 2870. Staying left, we continued on the unpaved FSR 2870. Although there wasn't any signage indicating as such, we had beta that suggested a portion of the remaining road to the trailhead has been closed (see Eric's report for details). While I suspect Eric may have gotten the forest road numbers mixed up, I think the gist of the detour is to take a right onto FSR 2860 (not marked on the NPS map) and stay on that road (ignoring a right fork soon thereafter) until it re-joins FSR 2870 presumably after the portion of road that has washed-out. We weren't entirely sure if we were going in the correct direction at the time, but we stayed right at this fork, noting that the left fork seemed to descend into the valley below. The road then hugs a steep hillside with intermittent views of the Dungeness River Valley. A final gradual descent to the bridge over the Dungeness River leads to a large parking area immediately beyond.
I suppose I shouldn't have been surprised by the number of cars parked at the trailhead, but suffice to say this is certainly a very popular area on a sunny July weekend. John and I wasted little time getting ready and started hiking the Upper Dungeness Trail around 8:30am. The trail through old growth reaches Royal Creek and the junction with the Royal Basin Trail in one mile. Turning right, we followed the trail along Royal Creek for a number of miles before reaching a quaint meadow with a handful of established campsites and bunny rabbits scurrying about. Beyond, a brief grunt up a steeper trail leads through forest to reach Royal Lake (6 or 7 miles to here). Following the trail on the right-side of the lake, we continued past numerous occupied campsites towards Shelter Rock, which Eric accurately describes in his report as "an enormous blob of pillow lava that has a large overhang."
Another, larger meadow lies shortly beyond Shelter Rock complete with a scenic waterfall tumbling from some unseen lake higher up. We continued up the trail into the upper-basin and stopped for a break where the trail peters-out near the edge of a large lateral moraine. A glacier must have called the upper-basin home sometime in recent (geological) history. The barren moon-like landscape littered with talus moraines, glacial tarns and remnant snowfields reminded me of the terrain exposed by the rapidly retreating White Chuck Glacier near Glacier Peak.
Looking up, a party of two could be seen standing on the summit. Not wanting to be below these two as they descended back into the basin, I impatiently barked at John that we needed to get moving and led the charge into talus hell. Aiming for the apex of the large snowfield at right, we made good time booting up the steepening snow slope, exiting at right onto hard mud near the top. The snow was soft enough so as not to warrant crampons, but it might have been wiser to have put them on anyway as a fall near the top would have been difficult to arrest. Opting to take the standard route over the seemingly unpleasant Honeymoon Route, John and I proceeded to scramble up rock and scree (exposed class-3), linking a series of ledges and ramps that switchback up towards a final loose gully below a notch.
We had our first glimpse of Gilhooley Tower from the notch and could see boot tracks across a small unnamed glacier below. It seemed unusual for there to be a glacier here and yet little more than a few permanent snow fields on the north-side of the peak where one might typically expect a glacier to be present. From the notch, we traversed a chossy slope down to the glacier and followed the tracks around Gilhooley Tower to a gravelly shoulder. Here we located a pair of crampons we assumed the party we'd seen on the summit had left behind. We must be close!
Contouring around the southwest side of the peak, we traversed into a large talus basin and continued up beneath the South Face of Gilhooley Tower to a broad saddle between it and the summit of Mount Deception. The party of two we had seen on top of Deception earlier was now on top of Gilhooley Tower. We exchanged a few unintelligible words before John and I completed the final walk to the summit proper. Having roamed far and wide in these mountains over the years, John rattled off the names of virtually every summit in sight and shared some stories about his experiences to boot. The Needles looked interesting and may someday cause me to come back this way.
Mount Mystery appears as an attractive pyramid and dominated the view to the SSE. The normal route apparently goes up to the col atop the glacier and continues around the backside for a loose scramble to the top. I'm curious what the ridge up from the aforementioned col would entail. Of loose rock I am most certain, but anyway. Farther off, Mount Constance and Inner Constance form a barrier, blocking any views east of Hood Canal or beyond, save for Mount Rainier which can be seen peeking at right. The foreground basin looks like it'd make for some great ski touring terrain. Helicoper anyone? But the real gem for me was the perspective on Mount Anderson's West Peak. It is certainly a striking peak from this vantage point and it felt good to know that my hands have caressed its chossy summit.
While I felt a bit queasy up on top, John, 18 years my senior showed no signs of fatigue. The 9 miles and 5300-ft of gain had no doubt taken their toll on me. It had taken us about 6 hours with only two short breaks to reach the top. On return, we encountered the twosome from earlier back at the notch. Having camped in Royal Basin the previous night, they were clearly impressed by our one-day blitz and offered to hang back at the notch while we descended back to the snow slope in the upper-basin. It wasn't till after 5 pm when we started back down the trail, arriving back at the car around 8:00pm making for an eleven-and-a-half hour trip car-to-car.
Having learned from my previous ferry experience barely two weeks prior, I thought I had the system beat. I passed on the hour-long wait at Kingston and continued to the nearby Bainbridge Island ferry terminal instead. Well, I didn't have to wait in line all right, but I hadn't counted on the next sailing being at midnight-a wait of more than an hour. I can't win it seems. I think I've definitely had my fill of the ferries this year, and of the Olympics as well for that matter.
Click
here
to view photos.