Mount Olympus - Blue Glacier, August 2003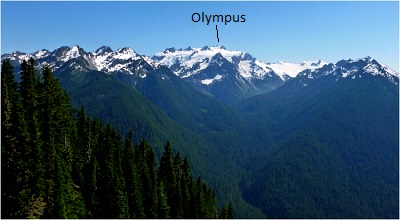 The Evergreen Point Floating Bridge, otherwise known as the 520 Bridge, is for many Seattle area natives a thing to be despised and avoided during rush hour. A crucial link between Seattle and many East Side communities, the bridge is notorious for snarled traffic and hellish commutes. If the aging span across Lake Washington were to have anything going for it, I would say that without a doubt, it would have to be the westward views of the Olympic Mountains. How many times have I found myself entranced by that striking outline of rock against sky, only to suddenly throw my full bodyweight on the brake pedal in a desperate attempt not to slam into the illuminated brake lights of the car in front of me? How many accidents are caused by that distracting view of mountains I wonder?
For those climbers among us that manage to avoid (or survive) such an accident, the attraction of climbing in the Olympics is unavoidable. Worthwhile and easily attainable objectives include The Brothers and Mount Constance, which feature quite prominently from Seattle. However, since climbers are typically drawn to the biggest or most dramatic peak in a given range, Mount Olympus is most likely the most sought after mountain in the Olympics. Presenting little in the way of technical challenges, the journey to Olympus is pleasantly casual affair and offers even the most jaded of Cascade weekend-warriors respite from the increasingly familiar Cascade scenery.
I did not relish the thought of an 18-mile approach and so left my Olympus project on the backburner for several years. Inevitably an avid climber such as myself will soon run out of classic peaks with short approaches, making objectives such as Olympus seem increasingly more alluring. And so, the time had come when I was finally "ready" to climb the pesky Mount Olympus. Eric Hoffman was apparently also "ready" and eagerly signed on. We both agreed that making the roundtrip journey in three days would also be the most enjoyable way to go about climbing the mountain. Plans were put into motion, and what started out for me as a vague inkling of that "one thing to do in the Olympics" took form and was finally happening.
The drive from Seattle to the Hoh River Visitor's Center takes about four-and-a-half hours. En route, we stopped at the ranger station in Forks to obtain our climbing permits. It has been years since I last drove through Olympic National Park. I reminded myself that I still needed to explore the surf near Neah Bay, La Push, and First and Second Beach. But all that would now have to wait for some other time. We turned off US-101 and drove through endless clear cuts (don't be fooled by the narrow strip of trees along the road) before reaching the park boundary. Eric and I finished the last of our packing, locked the car, and hurried through crowds of loitering tourists to reach the trailhead. We began the 15-mile march up the Hoh River Trail to camp at Elk Lake around noon. We settled into a brisk, yet comfortable pace while Eric, an electrical engineer by trade, enlightened me as to the nuances of power transmission and his thoughts concerning the recent East Coast power crisis. Before long, we found ourselves taking a break at the ranger cabin about nine miles in.
After about 12 miles, the trail begins to climb and then crosses the North Fork Hoh River at a narrow gorge one mile farther on. Steeper hiking for the remaining two miles brought us to camp at the buggy Elk Lake. (Martin Creek Camp, just before Elk Lake, appears to be a better option). We found camp deserted and running water hard to come by. The "Fierce Mold" flavored lake water (a new Gatorade flavor?) did little to complement the cuisine, but a healthy dose of Canadian Club quickly washed my cares away. Sleep was difficult to come by, thanks to the violent spins, but sleep I eventually did. We departed camp at 7:00am the next morning, making good time to Glacier Meadows, about 2.5 miles from our camp. We signed the register just beyond the ranger station and continued upward to the lateral moraine, ignoring a right fork in the meadows below.
We arrived at the moraine (c.5000 ft) and got our first real look at the Blue Glacier and Mount Olympus. Wow! Now this is something you just don't see in the Cascades: an expansive river of ice. It looks like something out of a cruise ship brochure. From the moraine we could see a slow moving party of three ascending the Snow Dome (we learned from the register that this was likely the party from Austin, Texas). I changed into my boots and followed Eric as he headed up the moraine for a couple of hundred yards then descended to the glacier a couple of hundred feet below. We hiked up the left side of the glacier for a short distance then crossed easily to a rock gully on the west side.
A loose gully then low-angle slabs provided easy access to the base of the Snow Dome. Once atop Snow Dome, we roped up for the short glacier crossing (Eric simply tying in with a Bowline on a coil). We continued up below the three distinct summits of Mount Olympus, and traversed left to a notch (c.7200 ft). On the other side of the notch, we turned a sharp right and ascended glaciated slopes with the crags of false summits on our right. After a crevasse end-run and one last short glacier slog, we reached a sharp buttress adjacent to Five Fingers. Beyond, a chasm stood between us and the main peak. A short grind up scree right of the buttress brought us to another, smaller notch by a crag.
One final steep descent on scree immediately followed by an ascent of a 50 - 55 degree snow wall landed us at a saddle below the true summit, whereupon we encountered the party from Austin. The Texans were belaying the short pitch of exposed, but mostly 4th-class rock to the summit. Eric and I looked at each other and rolled our eyes. With the leader belaying from the summit, Texan #3 was coaching Texan #2 (his wife?) up the short chimney near the top. "Remember what you do when you go rock climbing. Look for the foot holds, look for the hand holds," I heard one of them say. "Look for the tape!" I quipped before cutting in behind Texan #2, unintentionally kicking some pebbles down onto a very displeased Texan #3.
Summit views were certainly different than what I am used to. The Olympus Massif is truly a giant among giants and dwarfs everything else in the Olympics. We had hazy views over towards the Pacific and looking through a gap in a distant ridge, I could see a ship plying the Strait of Juan de Fuca and the city of Victoria beyond. The Bailey Range looked enticing, tempting me into some future traverse from Mt. Carrie all the way to the isolated Mt. Queets. Mount Rainier, as always, stood tall and aloof; we even had a distant glimpse of Mount Baker. It was a bit windy on the summit and weather appeared to be moving in. The one female Texan, covered from head to toe in Gore Tex and shivering from the cold, commented on our t-shirt and shorts attire. "You get used to it," I reassured her. I doubt she was convinced. I made peace with the Texans while Eric asked permission to rap off their rope. Removing a triple-length runner from the rap station, Eric fashioned himself a swami belt and rapped off the summit using a rope coiled around a 'biner. Jesus! And I thought I had packed light!
Back in the meadows above the ranger station, Eric and I decided to take a short detour and check out the terminal moraine. We dropped our packs and started hiking the trail a short while, before losing interest, turning around, and returning to camp instead. We rolled into camp around 6pm, only to find our precious privacy now invaded by two other parties. It didn't matter much. I had less than half-a-pint of whiskey left anyway. We had a long march ahead of us tomorrow and so turned in early.
I was startled out of my slumber the next morning by the ear-splitting bugle of a bull elk. Eric, apparently having heard the bugling while the elk were still some distance away, got up to investigate and spotted a bull and several cows. I later learned that such encounters are extremely rare in the Olympic National Park and that the bugle of a bull elk is typically heard in the fall, not the summer. Feeling somewhat privileged after the elk encounter, we broke camp and departed around 8:00am, arriving at the Hoh River Visitor's Center just after 1:00pm. We got a few curious glances from unsuspecting tourists milling about. With a healthy sense of accomplishment, we walked proudly back to the car. It felt especially good to know that we were returning from a successful climb of Mount Olympus-the crown jewel of the Olympics and perhaps all of the U.S. Coast Ranges.
Click
here
to view photos.