Mount Regan - Southeast Ridge, September 2011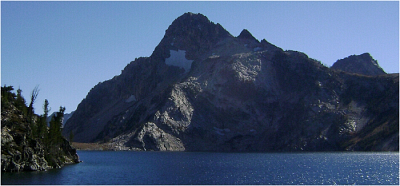 Located in the far northern part of the Sawtooth National Recreation Area, Mt. Regan is an aesthetic and deservedly popular peak. Its sheer North Face towers above Sawtooth Lake's south shore and makes for a dramatic backdrop to an otherwise scenic and tranquil location. The standard Southeast Ridge route presents little in the way of technical difficulties, save for a supposedly classic class-4 scramble over an exposed ledge very near the summit. Due to the peak's northerly position, the view south into the heart of the Sawtooths is exceptional. Warbonnet Peak and the neighboring Monte Verita Ridge area are impossible to ignore and inspire one to venture deeper into what is unquestionably Idaho's most rugged and spellbinding mountain range.
Okay, so now that I've piqued your interest you might be wondering how to get there. Two miles northwest of Stanley go west onto Iron Creek Road for 3.8 miles until you reach the Iron Creek campground and trailhead. Follow the well marked and maintained trail from Iron Creek Trailhead, passing Alpine Lake in about 3 miles. Reaching Sawtooth Lake in about 5.5 miles, I claimed my campsite for the night and got on to the arduous task of relaxing in the warm afternoon sun. Campfires aren't permitted within a certain radius of the lake, so no matter how tempting it may be to make use of the existing fire pits, know that unseen campers at the other end of the lake may take exception to those breaking the rules. Don't say I didn't warn you! (
more...
)
Click
here
to view photos.