Mount Adams - Adams Glacier, July 2004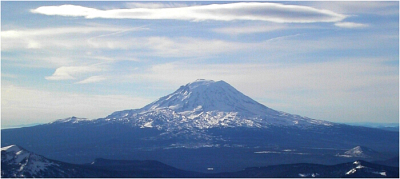 Having climbed the mountain via the South Spur route early in my climbing career, Mount Adams had been relegated to my been-there-done-that list, and, until recently wasn't even on the proverbial radar for me. Enter the Hummels, Josh, Sky (and others) with their numerous, radical ski descents of north-side routes that previously had only been climbed, and it was only a matter of time before I allowed myself to be drawn to the allure of my own crazy snowboard descent. Furthermore, I had never seen the dramatic north-side of Adams in person, which, as it turns out, was incentive enough for me to explore the area.
Either laziness or caution won out, for when Andy Johnson, Eric Hoffman and I finalized plans for a climb of the grand Adams Glacier, skis or snowboards didn't end up factoring into the equation. Rather than hiking up the North Ridge and skiing down the North Face of the Northwest Ridge as I had originally intended, we wound up climbing the Adams Glacier and descended the North Ridge on foot. In hindsight, perhaps a mellow ski-descent of the popular Southwest Chutes is more my speed anyway. The NFNWR looked steep and had spots of ice that would have to be negotiated on the ski down...no place for an adventurous knuckle-dragger looking for an easy cruise down from a 12,276-ft summit! Ok, now that that's cleared-up, on to the climb... (
more...
)
Click
here
to view photos.