Columbia Peak - West Spur, October 2004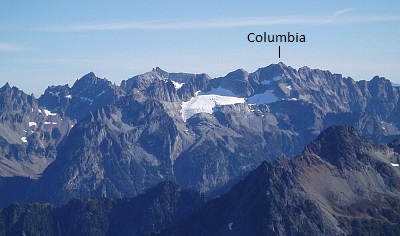 After years of living vicariously through Phil's Fortier's trip reports, it felt a little weird at first to actually be accompanying him on a climb. I had previously wondered if we would ever cross paths in the mountains somewhere. A chance encounter last spring when both Phil and Dave Burdick were thumbing for a ride on hwy20 following a ski on Mt. Hardy put that question to rest. It's funny how one can recognize someone via their presence on the internet, without actually "knowing" that person. Our outing on Columbia Peak was the result of Phil's CascadeClimbers.com posting in the partners forum. With the nice weather we were having during the week forecasted to deteriorate by the weekend, we apparently both felt the need to run to the hills for what could very well be the final dose of fall sunshine. Conditions seemed a bit marginal for a backcountry ski, so we opted for a scramble of some sort. With Phil's hand being injured following an avalanche incident on Rainier's Flett Glacier this September, significant amounts of belaying or pulling on rock were out of the question. "How about Columbia?" asked Phil. "Uhh, sure," I replied, and with that the matter was resolved. Now, if only they could accurately predict the weather...
We arrived at Barlow Pass to be greeted by a heavy mist. Surely it'll burn off. Right? Removing my bike from the bed of Phil's truck, I prepared, as I have so many times before, for that chilly, early morning bike ride to Monte Cristo. With much to talk about, the four miles passed by quickly. Before long, we had stashed our bikes and were hiking up the Silver Lake Trail to Poodle Dog Pass. It seemed the higher we went, the wetter it got, and by the time we reached Poodle Dog Pass it was positively raining. Motivated to not let this day-a day we both took off from work-go to waste, we pressed on. (
more...
)
Click
here
to view photos.