Mount Garibaldi - Northeast Face, June 2002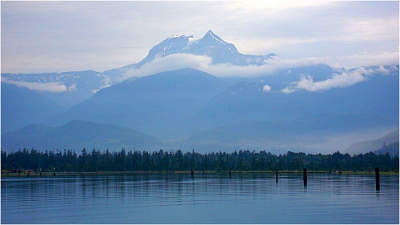 Paul Cookson and I had Mount Garibaldi on our agendas since we first met on Silver Star in June of last year. We originally intended to go after the peak the weekend prior, but the weather had other things in mind for us. We rescheduled for the following weekend and hoped the weather forecast would be more cooperative. By mid week the weather models were predicting a weak ridge of high pressure to remain over the South Coast Mountains and it looked like the climb would be a go.
I met Paul and John in N. Vancouver on Saturday morning and together we drove out to Squamish. We stopped at the base of Stawamous Chief and had a rare unobscured glimpse of the mountain rising above the ridge before us. Brohm Ridge, our ascent route, was clearly visible on the left (west) side of the mountain. I recommend a high clearance vehicle to ensure safe passage up the rough Brohm Ridge jeep road. It took all of three people to drive, navigate and clear the road of boulders on our way up to where we parked at 4200ft. (
more...
)
Click
>here
to view photos.