Overlord Mountain - West Route, August 2019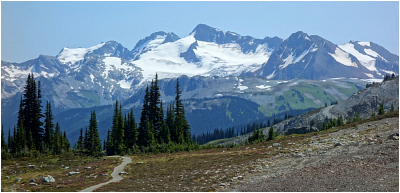 I've had my eye on Overlord Mountain for some time now, and for good reason I might add. I don't consider myself a seasoned veteran of climbing in the South Coast by any means but based on the trips I do have under my belt; Overlord is a classic! I had the intention on bagging the peak back in May this year but was thwarted by poor snow conditions (climbed
Fissile
instead). Turns out it was a blessing in disguise. For what it's worth, I'd suggest leaving Overlord for later in the summer. With the seasonal snow gone, the colors and contrast of mid summer really do this corner of Garibaldi Provincial Park justice. Combine that with a gondola-assisted start, then a pleasant hike along Whistler's summer trails and past the resort boundary over the infamous Musical Bumps to lovely Russet Lake for the full meal deal. The approach over the 'bumps is truly unique in that it comprises an ~8-mile "ridge" of subalpine meadows linking a world-class ski resort to the edge of a vast wilderness. Known as the Fitzsimmons Range, this "ridge" essentially culminates with Overlord Mountain itself. As the highest summit within the headwaters of Fitzsimmons Creek, Overlord offers a commanding perspective on the Spearhead Range to the north, the McBride Range to the south and a seemingly infinite ocean of peaks and glaciers that lie beyond.
The summer route to Overlord entails climbing up and over Whirlwind Peak (or close to it), then scrambling along the connecting ridge by going over Refuse Pinnacle along the way. There isn't much hands-on climbing on route, but the position and setting is about as good as it gets! Obviously, the views from up top are simply outstanding. Since I happened to be in the neighborhood, I went and tagged Mount Benvolio, just a short skip across the Overlord Massif plateau. From Benvolio, I enjoyed unobstructed views of Cheakamus Mountain and countless glacier-clad peaks behind it, not to mention the mighty Diavolo Glacier right beneath my feet and of which I have fond memories from when I did the
Spearhead Traverse
.
Returning from the summit, we made it back to camp without incident, packed up and invited ourselves to a comprehensive tour of the new Kees & Claire Hut nearing completion on a bench above the lake opposite where the old hut is located. I've commented on this before but suffice to say that the K&C hut makes for some damn fine backcountry accommodations! Ok, it's not exactly a rifigio in the Dolomites, but then this ain't the Alps either. For something different, we decided to return via the Singing Pass Trail rather than going back up and over the 'bumps. Not sure it was any faster than taking the high route back to Roundhouse Lodge, but then again, we didn't have a gondola waiting to take us down to the village. Preparations for Crankworx were underway once we finally made it back to civilization, and so we decided to stick around and watch some MTB action while enjoying a well-deserved meal from the patio at the GLC. That's right, food service with entertainment practically at the trailhead. I'll take that over driving down a bumpy forest road and spilling my beer and spicy pork rinds all over myself any day!
Click
here
to view.