Leavenworth - Bruce's Boulder, Barney's Rubble and Icicle Buttress, May 2002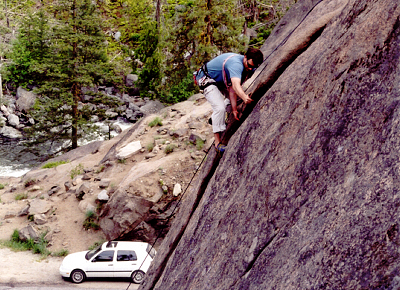 We stopped at Gustav's for burgers and beer the following a soggy weekend at Colchuck Lake, and discussed doing some rock climbing in the Icicle Creek canyon for the remainder of the day. Agata, Scott and myself were pleased to find the weather down low reasonably dry and pleasant.
We first set up a couple tr's at Bruce's Boulder. Afterwards, we all very much enjoyed the lie-back flake at Barney's Rubble just across the road. We then located a bolted route somewhere in the vicinity of Icicle Buttress (Egg Ons - 5.10b?) and Scott made a heroic lead with some very thin holds to the top anchor. Agata and then myself climbed the route on tr. The climbing was very enjoyable and in some way we felt redeemed for the stupid rain-fest we had endured up at Colchuk Lake.
Click
here
to view photos.