Mount Olympus - Blue Glacier, August 2003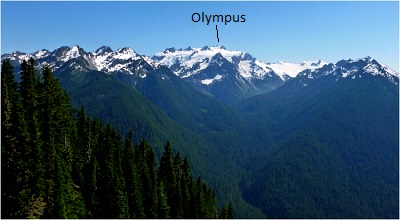 The Evergreen Point Floating Bridge, otherwise known as the 520 Bridge, is for many Seattle area natives a thing to be despised and avoided during rush hour. A crucial link between Seattle and many East Side communities, the bridge is notorious for snarled traffic and hellish commutes. If the aging span across Lake Washington were to have anything going for it, I would say that without a doubt, it would have to be the westward views of the Olympic Mountains. How many times have I found myself entranced by that striking outline of rock against sky, only to suddenly throw my full bodyweight on the brake pedal in a desperate attempt not to slam into the illuminated brake lights of the car in front of me? How many accidents are caused by that distracting view of mountains I wonder?
For those climbers among us that manage to avoid (or survive) such an accident, the attraction of climbing in the Olympics is unavoidable. Worthwhile and easily attainable objectives include The Brothers and Mount Constance, which feature quite prominently from Seattle. However, since climbers are typically drawn to the biggest or most dramatic peak in a given range, Mount Olympus is most likely the most sought after mountain in the Olympics. Presenting little in the way of technical challenges, the journey to Olympus is pleasantly casual affair and offers even the most jaded of Cascade weekend-warriors respite from the increasingly familiar Cascade scenery. (
more...
)
Click
here
to view photos.