Yellowstone National Park, August 2010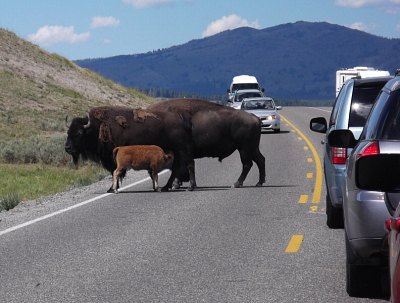 I made a loop through Yellowstone National Park the day following my Grand Teton climb. A lazy mid-morning start, congestion, bison-crossing backups and afternoon thundershowers all conspired to make this a day where the modus operandi was to hurry through as many attractions as possible before it got dark. I'm not sure what the big rush was to be honest, my spouse notwithstanding, it's not like I had a boss waiting for me back in Seattle. But anyway...
This is my second visit to the park, now as an adult rather than the prepubescent teen standing next to me. Was he just a reflection of my earlier self, hoping like everyone else to start capturing Old Faithful on video moments before its orgasmic climax? In any case, there's certainly a lot to see and learn here in this grandiose and volatile land, but the volume of human traffic circulating through the park is almost too much for me to bear. Below are a few snaps of Yellowstone's popular attractions taken during my rushed one-day loop through the park.
Click
here
for photos.