Mount Matier - Northeast Spur, June 2004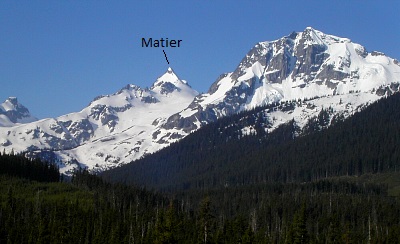 The peaks that comprise the Joffre Group - Joffre Peak, Mount Matier and to a lesser extent, Mount Hartzell, Mount Spetch and Slalok Mountain, are popular ski-touring destinations in the winter and make for excellent mountaineering objectives later in the spring and into summer. Knowing this and with fond memories of the Spearhead Traverse still fresh in our minds, Eric and I hatched plans for our next Coast Mountains adventure; this time somewhat more removed from the familiar Whistler Valley corridor. Originally intending to make the trip in May, we envisioned a 3-day ski-touring extravaganza on the Anniversary and Matier Glaciers with climbs of Matier's Northwest Face and Joffre's Southwest Gully (Aussie Couloir) thrown in there for good measure.
Alas, the weather wouldn't cooperate, and so our plans were put on hold while we pursued other silly, local objectives. Finally, the weekend of June 19 - 20 promised good weather. We didn't hesitate to seize the moment, though some minor changes to our original plans were in order. Given this year's mediocre snow pack, early melt and poor consolidation, it was decided that skis/split should be left behind. We also finally settled on making the approach via Cherise Creek, rather than the more popular (but longer) Joffre Lakes. Lastly, we modified our original itinerary, choosing instead to climb both Matier and Joffre in a day out of my in-law's North Vancouver residence.
After barely four hours of sleep, we began the three-hour drive to the Cerise Creek Trailhead. A logging road leaves highway 99 12km past the Joffre Lakes Trailhead (cross a wood bridge then turn right at a concrete bridge just beyond). McLane's Alpine Select describes the roadway as a "good gravel road" but neglects to point out that it is impossibly narrow and overgrown, thanks to the encroaching alder. Between this outing and last year's venture up BC's Depot Creek, I think Eric's Kia could use a trip to Maaco. After about 4 miles on the road, we passed the marked trailhead and continued across a bridge at a bend to a spur-road that switchbacks steeply back up to the left. A bit rough initially (4WD only), the road ends in about a quarter-of-a-mile at a large logging platform.
We set out on the trail to Keith's Hut starting about 8:15am. About 1.5 miles down the trail, we encountered a signed junction: Hut to the right, Glacier to the left. Though either option would have worked, the latter of which is probably better for early season ski-touring, we decided to go right and reached the hut in another 1.5 miles. The last mile is steep in places and has a hand line aiding a steep rocky section of the trail. The hut feels more like a well-maintained cabin and features a wood burning stove, stainless steel sink, and counters. Deeeluxe!
From Keith's Hut, we gained the obvious lateral moraine of the Anniversary Glacier and started climbing up beneath Joffre's looming Southeast Face. After several hundred feet, we passed a small tower on the left, then climbed back to the crest of the moraine and continued until reaching the Glacier's edge, directly beneath Joffre Peak. From there, we booted up moderately angled slopes along the right side of the glacier to reach the Matier-Joffre Col. We roped up at the col and began a post-hole traverse out over the Matier Glacier towards the base of Matier's Northwest Face. Sinking almost to our knees with each step, the decision to instead head straight up and climb the more direct Northeast Ridge (Spur) came easily.
We labored for what seemed like an eternity to reach a small 'schrund below the Northeast Ridge (easily climbed over), after which the climbing steepened somewhat and the snow firmed up a bit. We donned our crampons at a rock outcrop and proceeded to climb up mostly 45-degree snow with one short, but exciting 50+ degree neve step to reach the ridge crest. Ahh...finally some climbing! We climbed the crest until it leveled off a bit and made the final walk on a snow arete to the true summit, myself occasionally plowing through waist-deep mush again.
Looking over the Matier Glacier, Joffre's nearby Southwest Gully looked enticing but, in these conditions, doing so would eat up our remaining stamina and daylight. Nope, just the summit of Matier itself was hard earned on this day. We sat on the summit for about 15 - 20 minutes, gawking at the unfamiliar views, struggling to identify peaks of the Spearhead and McBride Ranges, yet somewhat confident in our identification of Wedge Mountain, Mamquam Mountain, and the Misty ice fields to the WSW.
We descended via the Northeast Face, having to face-in downclimb until the slope eased off a bit before reaching the col. For the heck of it, we decided to take the trail from the glacier's terminus rather than the trail from Keith's Hut. Descending the lateral moraine to a small tarn at the bottom of the glacier, we began following a few cairns and shreds of flagging and lost the trail at a boulder field shortly thereafter (look for a switchback to the right). What trip is complete without some amount off-trail bushwhacking, right? Eventually locating Keith's Hut trail again, we continued hiking out, reaching the trailhead at about 6:00pm. Now, we just had that 3-hour drive back to North Van to endure...but not without stopping in Whistler for Shakespeare's hot Aussie pies first!
Click
here
to view photos.