Cayoosh Mountain - South Ridge, July 2018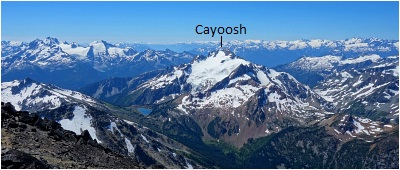 Cayoosh Mountain is a prominent peak directly opposite the highway from the ever-popular Joffre Lakes Provincial Park. It stands relatively isolated and boasts a fantastic 360-degree summit panorama overlooking the southern portion of the Duffey Lake Valley and surrounding area. While it apparently makes for a popular ski touring objective in Winter, its Summertime popularity pales in comparison to the park just to the south.
The standard South Route I followed entailed a fair amount of route finding and travel over hardened scree, dirt, and rotten snow to eventually reach a pair of slanting snow fingers, and arguably the crux of the route. After some shenanigans following the upper finger and rock rib to its right, I finally reached the mostly horizontal South Ridge...think
sidewalk-in-the-sky
. A small saddle separates the ridge from the blocky slabs that make up the final summit block. Once up on top, I briefly exulted in the view and choked down an energy bar before returning the way I came to relieve Dan from his nap in the basin below. I'd give this one a 3.5 - 4 out of 5 stars, with the deduction for the tedious boulder hopping and overgrown forest road on the approach and return.
Click
here
to view.