Blackcomb Peak - Northwest Ridge, June 2019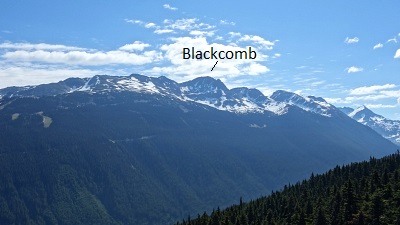 The higher of the two mountains that make up the Whistler-Blackcomb ski resort, Blackcomb Peak requires no further introduction. In terms of climbing, it features a variety of routes ranging from technical rock and scrambles to walk-ups. Starting from the top of the 7th Heaven Chair, we climbed the Northwest Ridge as featured in SSWBC and descended the Southeast Face, returning to the Rendezvous Lodge via the Overlord Trail. As far as approaches go, this is about as civilized as it gets with a mere 650 feet vertical gain to reach the summit. Note that the 7th Heaven Chair stops running sometime in June and that it is technically prohibited to climb up past the top of the lift prior to that time, and so long as the private ski/board camps are underway on the Horstman Glacier. We were lucky and managed to convince patrol to allow us to proceed, provided that we walked along the south-side a bit before turning up to gain the ridge.
The ridge itself made for an enjoyable romp with unique views of the terrain park action on the glacier far below. The "crux" of the route comes towards the end and features an exposed ledge traverse followed by a boulder problem up a short chimney. We experienced some stressful moments when it was Agata's turn up the chimney. It amounts to no more than a big right-handed side pull, but is clearly no place to be if one is only about 4 weeks post carpal tunnel surgery. She backed-off the move and took a moment for the blinding pain to subside. We regrouped below the chimney and took an alternate route via a loose gully down and left to reach a large talus slope below a saddle. A short scramble from the saddle lead easily to the summit where great views in all directions were had. We shared the summit with just one other party who had come up via the Blackcomb Buttress route...might have to come back and give that one a whirl someday. All-in-all, a fun and relaxed day in the mountains (hand drama excepted) with options for extra credit link-ups such as The Spearhead and/or Decker Mountain!
Click
here
to view.