Mount Merritt - Old Sun Glacier, August 2015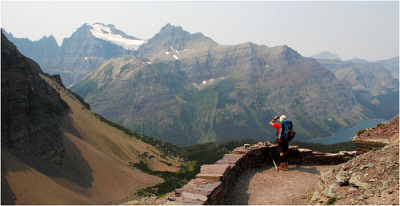 *Report by Paul Klenke
Well it had to be done: to finish climbing the last of the six 10,000-ft peaks in Glacier National Park. Except this time we'd be loaded for (grizzly) bear. We'd have camping permits ahead of time so we could "legally" (i.e., not break the park's draconian camping rules). Our permits were scheduled for the first few days of August 2015. Before we got there we had heard that Mt. Merritt was arguably the most picturesque member of the six peaks. Now after having been there Sergio and I can opine that this is indeed the case. We only wish we had had better distant views while there. Forest fire smoke saw to that (or didn't saw to that, if you will). Mt. Merritt also has the allure of reasonable day-long approaches from different directions. And one approach affords a fantastic view of the mountain's glacier-mantled south side from an elevation about equal to the mid-section of the mountain itself (that is, not from far below in a valley, which generally tends to conceal a mountain's more aesthetic features). I'm referring to the approach via the Ptarmigan Tunnel. The tunnel itself is another notable feature of the park (more on that later).
I drove this time. I seem to drive on odd-numbered trips over there to Moooooontana. We made our "traditional" stop for lunch at the Wallace Brewery in Wallace, Idaho, only this time we didn't accidentally walk into the wrong establishment for the third time, and this time we weren't "bothered" by the old people posing as members of an accordion society. I love Wallace. It's probably the only town in America with a freeway for a roof. You have to visit there to see what I mean. The rest of the drive was fairly ordinary because we'd done it before. We met Agata in Columbia Falls a dozen or so miles outside of the park's west entrance. We had dinner. She joined us for hobo camp at the same location near Apgar that Sergio and I used the previous year. Only this time we couldn't get as far down the dirt track in the woods because the Verdina wagon is a low, black Audi with a nice paintjob. We hung out with the river rafting outfitter nearby for a bit in the evening before retiring (they had a keg of PBR!). The next day Sergio bid our Agata adieus and made our way into the park to officially obtain our camping permits. Agata would be doing her own thing for a few days then meet up with us later...
First we found the too big line at the too small backcountry camping permit cabin in Apgar. Whaddayaknow? We just weren't going to wait in that line unless I brought with me my electric shaver-to shave once at the end of the line and then again at the front of the line. So we drove around the park to Saint Mary. We couldn't drive over Logan Pass because there was a forest fire burning along the north shore of Saint Mary Lake. In fact when I drove into Saint Mary (Sergio was sleeping, dammit!) the thickness of the smoke hovering in a flat expanse about 200 ft of the ground looked a lot like a long bank of stratus, only stratus don't smell like that. We did pick up our permits in the Saint Mary Visitor Center and we did get to interact with the pretty climbing ranger but we did not get anywhere with her...because we're both married, not because we're not hunky. We tried to change our permitted campsite from two nights at upper Glenn's Lake on the northwest side of Mt. Merritt because, quite honestly, that's the boring side of the mountain. Lucky for us they had one night available at upper Elizabeth Lake. So we now had a permit for one night on the east side of the mountain and one on the northwest. We "promised" (the ranger) we would carry over our gear through the high saddle east of Merritt's summit. With a permit on the Elizabeth side we could now make an approach from Many Glacier using the Ptarmigan Tunnel Trail.
So we were off in the late morning hours along the fairly easy trail to Ptarmigan Lake where we took a break. Many people came up from Many Glacier. I guess now I know where the word 'Many' comes from. But it wasn't really that bad and there were some nice objects to view as they scissored their bare legs up or down the trail (no I'm not talking about the no-personality Europeans that we seemed to leap frog several times along the way, Europeans that Sergio said were Italians). I kept what I thought was a safe distance considering the adults were clearly shielding and protecting the younger sheep from the two-legged mamalian variety also walking the trail that day. While I'm not sure if Big Horn Sheep have ever been known exhibit aggressive behavior towards humans, I've certainly heard enough about aggressive mountain goats to risk provoking them. From the lake Sergio could see the entrance to the tunnel a few hundred feet up from the lake at the head of the basin. We'd have to slog our heavy (with PBR) packs up that slope and then it would be all downhill to Elizabeth Lake.
The tunnel itself doesn't disappoint as an attraction. It features a heavy steel door that is generally propped open. The tunnel is about 100 ft long. When you get to the other side you understand why it was constructed in the first place. The north end on the Belly River side, formed by the aptly-named Ptarmigan Wall, features a palisade of technical cliffs above and around the tunnel entrance. Yes sir, if the average hiker wanted to cross this notch technical climbing would be required. So they built a tunnel instead. The trail continues from the tunnel in a gradual downhill to the right and is a diminutive non-vehicle version of the Going-to-the-Sun Road on the north side of Logan Pass. They've blasted a path out from the rock face. But there's not much danger of falling to your death because they've erected a stone wall to keep you safely back from the edge.
One doesn't have to walk along the path very far from the tunnel to get one's first view of Mt. Merritt. And it sure does look awesome from this angle. It would have been even more awesome for us had there not been so much smoke in the air. The remainder of the trail to the Lake Elizabeth is kind of boring but the views to Merritt, the Belly River Valley and its lakes make it better than worthless. Although I will say the trail would seem to needlessly take its sweet old time to get down to the lake. It veers way too far into Redgap Creek. The campground at the north end of the lake (ELF) features about six sites, only half of which seemed to be occupied. But we had to carry on to the other end (ELH). That last mile or so of trail may go along the lake shore (photo taken on return) but it goes up and down more than a rollercoaster at a Six Flags. We just wanted to get to camp so we could drink a PBR. We didn't want to suffer in the last mile for it.
We arrived at camp about six hours after leaving the car. There were others there. Were they scumbag dirtbag peakbagging mountainclimbers like us or just backpackers from Iowa? Along the lake shore near camp we found a neat gravel spit to hang out and enjoy the setting sun, not the mention the first of our much anticipated PBRs. But first we had to chill our beverages in Mother Nature's cooler! And speaking of Mother Nature, we had the privilege of watching a bull moose feeding in the water very near near here on our second evening at camp, after climbing Merritt. At about 6:00am we left camp and headed down the trail. A trail crew had been cleaning up the brush along the way. That was nice. We would soon encounter that crew because their camp resides down a short spur in the direction of the large drainage SE of Merritt. In fact, this spur (our way trail) goes right through their kitchen area under a tarp. We exchanged some pleasantries but I was eyeing the beer in the box, which included PBRs! They wished us luck while I wished for their beer.
Anyway, we made good time getting up the initial segment of drainage. A washed out creek area eventually gave way to flowing water higher up so we had to get off the gravel and move left into woods. Here we worked along a maze of game trails that eventually just got too insufferable: we knew we were supposed to break out into dry(ish) streambed but the trails seemed to be going deeper into the thick bushes. I spied what appeared to be open ground to the left (south) and we crashed some formidable brush to get over to it. Suck suck suck. And then we popped out like honey bees from a honeycomb. We were now on a grassy slope with intermittent boulders. We were able to move upward into the basin until we at last found the open streambed. It wasn't too terribly "dry" and we had to jump across the creek more than once-and some of these jumps were difficult.
It took us about two hours from camp to get to the head of the basin in the vicinity of the old moraine adjacent to Lake 5525 (photo taken on return). Next to this 'lake on the map' there is a smaller pond. We traversed just to the right of that then up a steep, endless ramp to an upper shelf that traverses pretty level at 6800 ft. We traversed past a neat basin with many parallel stream courses. This made the sidehilling a little more palatable than it would have been otherwise. Eventually we rounded the corner to reveal to us the famous waterfall that makes a free drop of a couple hundred feet directly off the cliff at the edge of the glacier. Wow! This waterfall was even cooler than when we spied it from the Ptarmigan Tunnel. We had to scramble up to almost its base before finding a suitable crossing of its outflow (it's a canyon farther down).
We crossed the outflow and proceeded carefully up into a steepening cirque with down sloping gravel covered ledges for steps. When it seemed reasonable, we began traversing left on a narrow ledge that seemed to continue towards and around the exposed corner blocking our view of the lower glacier. The view from this very spot is truly a sight to behold, with the Old Sun Glacier clinging to a what appears to be a tilted plateau and coming down right to the edge of a huge cliff, and of course the dramatic waterfall pouring over the cliff right at the glacier's terminus. A scene fitting for the Land of the Lost TV Show, this is arguably the most impressive view in all of Glacier National Park, and no doubt one which very few ever get to experience.
The ledge continues around the corner, and becomes even more exposed and narrow, with loose gravel and wet grass to help spice things up. A short but wet 4th-class face-in traverse on smooth but solid rock marks the crux of the ledge, after which easier terrain leads to the bouldery streambed directly above the aforementioned waterfall. Rather than taking our chances climbing steep, dirty ice on the glacier proper, we threaded a winding route up through snow patches and numerous wet cliff bands along the glacier's edge. Once above the last of the cliffs, easy lower angled snow slopes led up to the base of Merritt's Northeast Ridge. We regrouped at the saddle overlooking the north side of the peak with Glenns Lake Valley far below. While Sergio struggled to shake the anxiety of having to traverse the sketchy ledge a second time, we were happy not to have to descend this side of the mountain. It looks like a very long and tedious way down, over steep and undoubtedly loose terrain.
Scrambling along the crest of the Northeast Ridge, we were soon forced onto ledges on the left side by steep rock towers that appeared to entail technical climbing to get up and over. Walking easily on reasonably broad ledges, we angled up and left towards the glacier headwall at the top of the Old Sun Glacier. At the edge of this headwall, an exhausting two-steps-forward-one-step-back grind up a steep gravel slope saw us to the base of the final summit rocks. Working left of a prominent notch between summits; we scrambled up and left over class 3 terrain to reach the flat summit ridge. Unsure this was the actual summit, we down-climbed and worked back to the north to tag an adjacent summit, though it didn't seem like the actual summit either. Then looking farther to the north, just beyond the aforementioned notch a rock point seemed to rise up above everything else. So over yonder we went, reaching that summit in about 15 minutes. The presence of a summit register, unfortunately too tightly shut for us to open, confirmed we'd finally made it to the top of Mount Merrit.
We spent about 10 or 15 minutes up on top, enjoying the views and savoring the glory of finally having completed all 6 of the 10k'ers in the park. Smoke from the still burning Reynolds Creek Fire near Saint Mary unfortunately made so that we couldn't see much more than a valley away, but at least there weren't any ominous thunderclouds building overhead. Either the spirit of the Nyack was asleep or simply didn't notice us sneaking up Merrit thanks to the obscuring smoke (see Mount Stimson report). Reluctantly, we began our descent returning the way we came and traversing back across the sketchy ledge to the relative safety of slightly less exposed ledges beyond. Here once again we took a moment to absorb that breathtaking view of the glacier and waterfall. Wow...just wow! We returned to camp finding 2 of the 6 spots vacant (including ours) despite there not having been any available when we obtained our permits in Saint Mary a couple days prior. Our gamble had paid off, just like it did with our Stimson climb and Kintla before that. Whatever, our work here in GNP is done. All we had left to do was to polish off the last of the PBRs, vino, and the rest of some whiskey a couple of guys from Indiana gave us. With all of that booze in camp one might wonder what we were really doing in Glacier National Park. Were we there just to drink in camp or were we there to climb a mountain? Well...both!
The hike out was easy, and was it not for the pretty meadows near the Belly River Ranger Station I'd say it would probably be a little boring. It certainly isn't as interesting as the trail through the Ptarmigan Tunnel, but then we had the benefit of having arranged for Agata to pick us up at the Chief Mountain Trailhead, and then drive us back to Saint Mary where the car was parked. We played it cool when a ranger leading a mule train just outside Belly River Ranger Station asked to see our permits and inquired about our climb. Relieved that he didn't ask about where we'd camped last night, or, more importantly that he didn't notice the note Paul had written on the reverse side of the permit informing any would-be campers to move our tent should all other spots be taken, we continued on. Yes, we're grizzled Glacier veterans now when it comes to being mountaineers that have to deal with the punctilious park permitting process-the PPPP. We're so grizzled I'm pretty sure the tourists in the park have mistaken us for the local wildlife. Or do we just look gristly? Can't we be both grizzled and gristly?
Much to our disappointment, no Agata and therefore no PBRs were waiting for us when we arrived at the Chief Mountain Trailhead. Oh the humanity! It was about an hour before our chauffeur finally showed up and fully redeemed herself with a cooler full of ice cold PBR tall boys and some tequila blanco to boot! Sergio and I had a good laugh when Agata was a bit uptight that she had bought the wrong kind of PBR for us. She pulled out a big box and said she hadn't realized at the store that they were 16-oz cans, not 12, and no wonder the box was so heavy. How could she do this to us? How could she get us 16-ounce PBRs? How were we going to force down 16 ounces of alcohol before the beer got warm or got flat? How? How? Back at Many Glacier, we all sat down for a nice dinner at the restaurant there by the campground before parting ways one last time. Agata and Sergio managed to get a room at one of the many cabins and would spend the next week-and-a-half vacationing and climbing in Canada - Banff, Lake Louise, Golden, while I was to rendezvous with family in Coeur d'Alene, Idaho.
Now that our GNP odyssey has finally come to an end, Sergio is already fantasizing about doing something similar in Rocky Mountain National Park in Colorado. Not sure what the *list* there is, but pursuing all the 14k'ers in the park certainly seems doable - there's only one!
Click
here
to view photos.