Kintla Peak - South Ridge (via Akokala Lake), August 2014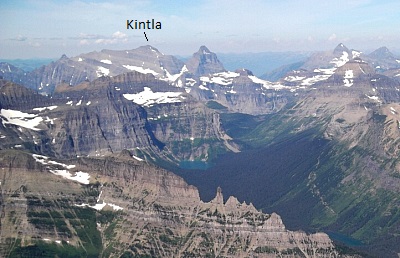 Kintla peak is the highest point in the Northern Livingston Range and the third tallest in Glacier National Park. The standard approach and route is for most mortals a 4-day trip either from the west via Kintla Lake or from the northeast via Waterton National Park in Alberta, Canada. However, having found a report online describing a long day-trip via a relatively unknown but significantly shorter approach from the WSW, we figured we'd go try some variation of that route ourselves. While this so-called Akokala Lake route (map...) is shorter, it isn't well travelled and entails brushy cross-country travel to the reach the head of the valley from where we hoped to find a route past a series of potentially troublesome cliffs and headwalls. We secured a permit for one night at Akokala Lake (6 miles, all trail) and from where we would make our summit attempt the next morning. We figured we'd either hike out after returning the next afternoon, or if it came down to it just camp another night by the lake sans permit.
In the end, we succeeded in climbing Kintla via this route but it took longer than expected and darkness descended on us by the time we made it back to the upper basin at the head of the valley. It was a rather circuitous route with lots of route finding challenges. Dealing with all that ate up much of the day. From the head of the valley, about 3 miles of cross country bushwhacking stood between us and camp at Akokala Lake - an impossible task in the dark, and so we resigned ourselves to a night out in the open. Fortunately it had been a warm day and evening, so it wasn't that bad of a night curled up in fetal position attempting to 'sleep' in the meadow. If anyone's counting, this is now my third unplanned bivouac. We finished the bushwhack back to camp the next morning, ate the food we didn't get to eat the previous night and retired to the tent for a couple hours of sleep. We then packed up camp later that afternoon and hiked the easy 6 miles back to the trailhead. (
more...
)
Click
here
to view photos.