Mount Jackson - Northeast Ridge, August 2012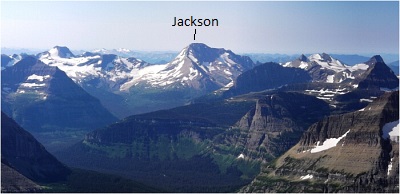 The fourth tallest peak in Glacier National Park, 10,052 ft Mount Jackson is both easily seen from the Going-to-the-Sun Road and cradles what may be the largest remaining glacier in the park - Harrison Glacier. Jackson is the only 10'er in Glacier situated on the Continental Divide, which as some suggest implies that the term "Crown of the Continent" was coined by George Bird Grinnell to describe the peak itself. In any case, it was Grinnell who named Mount Jackson in the first place, so it doesn't seem all that far fetched to me. Naming rights aside, it is unclear who first climbed the mountain though a familiar name once again appears in the list of earliest recorded parties. Like Mount Cleveland to the north Frank B. Wynn, this time joined by his son James, climbed Jackson in August, 1912.
7.5 trail miles plus an additional 2.5 off-trail miles lie between the trailhead (at the Jackson Glacier Overlook) and Mt. Jackson's summit. Paul and I had hoped to climb the peak starting from a camp at Gunsight Lake, however given the predictabe lack of available camping permits we decided to make a day trip of it. Our route, the Northeast Ridge, is probably the most aesthetic of the routes on Jackson but doesn't change the fact that it is a long, tedious and often loose grind to the summit no matter which way one goes. We 'enjoyed' all of 5 minutes up on top thanks to what appeared to be rapidly-growing thunderclouds (which never materialized) in the smoky air that surrounded us and quickly turned back to descend the way we came. Changing to running shoes for the trail hike back to the car certainly spared my feet from much pain and suffering, but I think I speak for the both of us in saying that I could have done without that final crippling mile back UP to the trailhead! (
more...
)
Click
here
to view photos.