Mount Despair - East Ridge, July 2011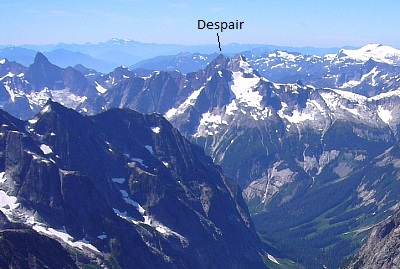 Paul and I enjoyed Independence Day triumph on Mount Despair, albeit not without a good dose of suffering I might add! To say it's an out-of-the-way peak would be an understatement. But being that Despair was Fred Beckey's initial first ascent kinda makes it an essential feather in the hat of any self-prescribed Cascade peak bagger. So here's to you 'ol Fred!
With a 5am Seattle departure we found ourselves sputtering on fumes by the time we reached Triumph Pass Saturday July 2nd and collapsed into the tent for the night. Rain all day Sunday made for a most boring 30+ hours of "sleep" and managing seeps and leaks in my tent. The rain ended around 4pm but alas it was too late to make an afternoon run for Despair. Fate had set us up for a BIG day on Monday!
It cleared up nicely that evening and night and we awoke Monday morning to a totally cloudless sky. We summited via the East Ridge about 4 hours after leaving camp. Worries about steep snow, difficult rock climbing and a lack of protection proved to be for naught. By and large, we managed to avoid the steep snow on the SE Face climbing reasonably solid yet somewhat vegetated class 3 and 4 rock on the ridge. The view from Despair's seldom visited summit is grand but my oh my, we had a long way to go still that day...
The HOT 2000-ft slog back up and out of Triumph Creek to Thornton Ridge later that afternoon could best be described as cruel and unusual punishment. All told it was about a 14 hour day Monday. It's been a long time since I last "enjoyed" a North Cascades ass-kicking like this and it took me a good couple days recover from it. This is an amazing part of the North Cascades and the East Ridge climb is worthy in its own right, but suffice to say that this isn't a peak or approach for that matter that I'm inclined to repeat anytime soon.