Sawtooth Scrambles, September/October 2010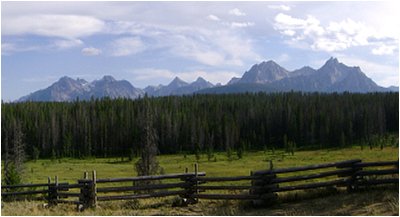 I needed to make one last road trip before the Summer Of Sergio © officially came to an end. After said escapade I would be forced to seriously confront other priorities that I blissfully managed to ignore for several months. I've dreamed of visiting the Sawtooths ever since my college days in Eastern Washington. Although I managed a few ski trips to nearby Sun Valley during that time, I never actually set foot in the
Sawtooth National Recreation Area
proper. Having sighted the
northern front
of the range with my own eyes while on my way back from Wyoming this summer, I was inspired to return for a closer look.
Everyone knows of the classic routes on Warbonnet Peak and
Mount Heyburn
seems an irresistible temptation as seen from Redfish Lake, but either of those two technical climbs would have to wait for another time. Being that I was hoping to capitalize on an unexpected window of fair autumn weather with scarcely a day's notice meant that this was to be yet another solo-affair. With that said, I regrettably left my dear wife at home to another 10 hour day at work as I headed for the distant hills of central Idaho. On the agenda were a couple pleasant scrambles that offer a good introduction to what the Sawtooths are all about –
Mount Regan
&
Thompson Peak
.