Seven Devils - He Devil via Northwest Ridge, July 2012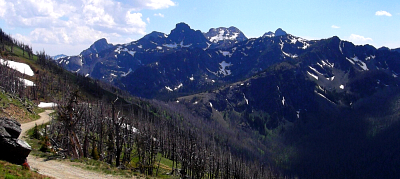 Shortly east of Oregon's Wallowa Mountains and immediately east of Hell's Canyon rise the Seven Devil Mountains of Idaho. Composed of a small cluster of peaks oriented primarily along a north-to-south trending spine, the view from up high struck me as similar in appearance to a smaller version of Wyoming's Grand Tetons. It is a rugged range with impressive relief rising out of the Snake River and culminating with 9,420-ft He Devil.
He
is possibly the highest peak in the range and in my opinion offers a reasonable sampling of what the Seven Devils have to offer. If nothing else, with the Windy Saddle Trailhead a relatively short 3 hour drive from Pullman, WA, these are probably the closest mountains worth visiting for all you fellow Coug's out there!