DaKobed Range Traverse - Clark to Tenpeak, August 2013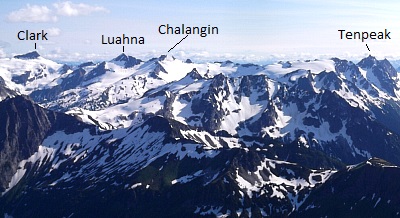 (re-posted from Tom's
nwhikers report
, photos by Tom S. & Sergio V.) Originally this trip was supposed to end at Trinity via High Pass and Buck Creek Pass, but intense electrical storms had us changing our itinerary. This is essentially a repeat of a trip Tom and Geoff did in August of 2011, but this time we kept on the N side of the range instead of the S. We wound up traversing the Richardson, Pilz, Butterfly and Moth Glaciers. The descent down Thunder Creek was made more pleasant thanks to very recent work by a trail crew w/ horses. Those must be some cowboys to get horses up there! Our hats are off.
We started from and ended at White River TH. We ascended Clark via the Klenke/Sjolseth cross-country
Y-Basin route
, passing within 400' of the summit. We then continued on traversing the N side of the crest, climbing Luahna and Chalangin Peak along the way. We had one particularly sweet high camp at ~7900' on the Napeequa/Thunder divide above the Butterfly Glacier. Lightning was intense here, and we nearly got struck with several bolts cracking right on top of us. We dropped back onto the S side via a key ramp from the upper Moth, before climbing Tenpeak, then setting up another camp in upper Thunder Basin (gorgeous). We dropped back down to the White River trail via the climber's path in Thunder Creek. Good routefinding required here to keep the trail!
Highlights:
-30+ goats in one herd (pictured somewhere below)
-Perseid Meteor Shower
-ISS sighting and likely also the Japanese H-II Transfer Vehicle-4 (HTV-4) chasing down the ISS in preparation for capture and birthing with
Harmony node on
8/9/13
.
-Almost getting hit by lightning (more than once)
-Two all-night thunderstorms w/ hail, high winds, and lots-o-lightning
-Stupendous views
-Saw nobody the entire trip