Dolomiti Snowboarding, Winter 13/14
Eleven days chasing Dolomites pow...

Panorama of the Sella Group with Piz Boe at top (right of center). Pordoi Pass at far left.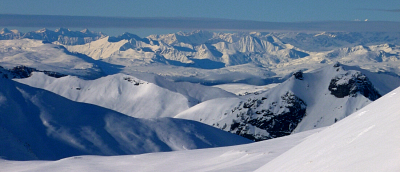 View from Buffaure Ski Area looking northwest in the direction of the Otztal Alps. The infamous iceman, on display in Bolzano was located somewhere in this area.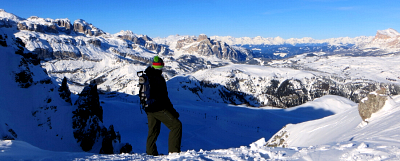 Taking in the view from near Passo Padon (looking north) with peaks on the Italy-Austria border visible in distance.









Fresh tracks descending from Col Rodella down into the Fassa Valley, ending finally in the town of Campitello.









Buffaure's Orsa Maggiore lift with peaks of the Rosengarten/Catinaccio Group visible at left.









Panorama looking east from Col Rodella with Sass Pordoi at left and Marmolada at right.









Getting ready for the ride down from a summit between Ciampac and Buffaure ski areas.